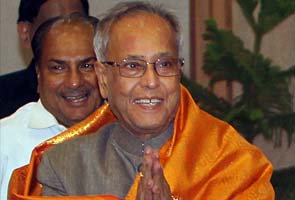 New Delhi:
The Supreme Court today upheld the election of Pranab Mukherjee as the President of India and dismissed former Nationalist Congress Party (NCP) leader PA Sangma's petition against him.
The verdict was delivered by a five-judge constitution bench and went 3:2 in favour of Mr Mukherjee.
Chief Justice of India Altamas Kabir, Justice P Sathasivam and Justice SS Nijjar said there was no need for regular hearings in the case and dismissed the petition. "The election petition is not maintainable for regular hearing. It is dismissed," the Chief Justice ruled.
Two judges, Justice J Chelameswar and Justice Ranjan Gogoi, differed. Justice Gogoi said that since it was alleged that Mr Mukherjee was holding an office of profit as chairman of the Indian Statistical Institute (ISI), the petition deserved a regular hearing.
Satyapal Jain, counsel for Mr Sangma, said the case had aspects that needed to be heard and even the two dissenting judges had called for regular hearings. A decision on filing a review petition would be taken after going through the complete verdict.
Mr Sangma, who lost the July 22 presidential election, had in his petition argued that Mr Mukherjee held offices of profit on the date of filing of nomination for the election.
The petition said Mr Mukherjee was chairman of ISI in Kolkata as well as leader of the House in the Lok Sabha when he entered the presidential race.
Mr Mukherjee had denied the allegations. His lawyer informed the court that he gave up both the posts while resigning as finance minister and filing his nomination for the election.
Mr Sangma quit the NCP to contest against Mr Mukherjee.
(With PTI inputs)