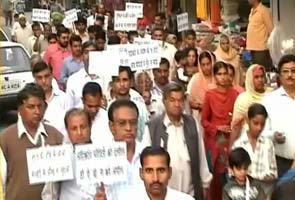 New Delhi:
The Supreme Court today upheld a compensation of Rs 33 crore from the DAV school management for the families of those killed in a fire at a school function in Dabwali, Haryana in 1995.
The compensation had been ordered by the Punjab and Haryana High Court. The DAV Managing Committee had appealed against it in the Supreme Court.
On December 23, 1995, a fire swept through a banquet hall in Dabwali during the annual function of the DAV School. Of the 456 people killed, 250 were women and 130 students.
On November 9, 2009, the high court ordered a compensation of Rs 55 crore - Rs 33 crore by DAV Managing Committee and Rs 22 crore by the Haryana government.
While Haryana paid its share, the DAV Managing Committee appealed in the Supreme Court in 2010. The committee argued that it could not be held responsible for the fire tragedy since the authorities had allowed the hall to function without a licence.
On March 15, 2010, the DAV committee was directed to pay an interim compensation of Rs 10 crore until its appeal was decided upon.