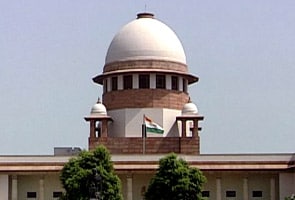 New Delhi:
In a bid to tackle the growing cases of corruption in the country, the Supreme Court today, in a major move, asked all trial courts in the country to dispose off such cases quickly.
A Bench comprising Justice P Sathasivam and Justice B S Chouhan directed all High Courts to monitor the cases of graft.
The apex court also said that all High Courts should seek quarterly reports from trial courts on the progress in the trial of the corruption cases.
The latest order came in the wake of the Supreme Court convicting former Congress minister from Kerala R Balakrishna Pillai and sentencing him to one-year imprisonment in a case of corruption.
Recently, Chief Justice of India S H Kapadia had written to all the Chief Justices of High Courts in the country asking them to deal with corruption cases on a priority basis.
Normally, such cases which are tried under the Prevention of Corruption Act, linger on for a long time.
Hence, the latest directive from the Supreme Court will help speed up trial of corruption cases. In this regard, all cases being tried in the lower courts will be time-bound. If they fail to do so, the High Court can seek an explanation from the lower courts for the delay or deferment of cases.