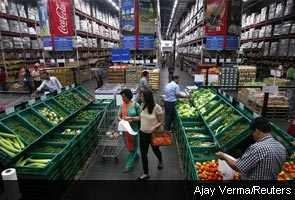 New Delhi:
A month after it questioned the government's decision to allow foreign direct investment or FDI in retail, the Supreme Court today said that it can't intervene in policies framed by the executive unless they are arbitrary.
On January 22, the Supreme Court had asked the government if its decision to allow foreign super-chains like IKEA into the country was more than "a political gimmick." It also wanted to know "Has the policy brought some fruits?" It had asked the government to explain in three weeks how it plans to protect the interests of small traders.
On Friday, hearing a Public Interest Litigation by advocate ML Sharma, the top court said, "The benefits have been spelt out and it has been explained how small traders will be taken care of," and added, "We can't go into whether the benefits (of the policy) will actually take place... it is anybody's guess."
Mr Sharma had challenged the FDI policy on grounds that Reserve Bank of India guidelines had not been amended to allow FDI in retail.
The Supreme Court today said that the flaw in the statue has been corrected by the government.
The case has been adjourned till further hearing.
In September last year, the Prime Minister's decision to allow 51% FDI in multi-brand retail left his government in a minority, with his biggest ally Mamata Banerjee pulling her Trinamool Congress from the fragile coalition. Ms Banerjee said the flagship economic reform was "anti-people." Virtually every opposition party has said the new policy will rob thousands of small traders of their livelihoods.