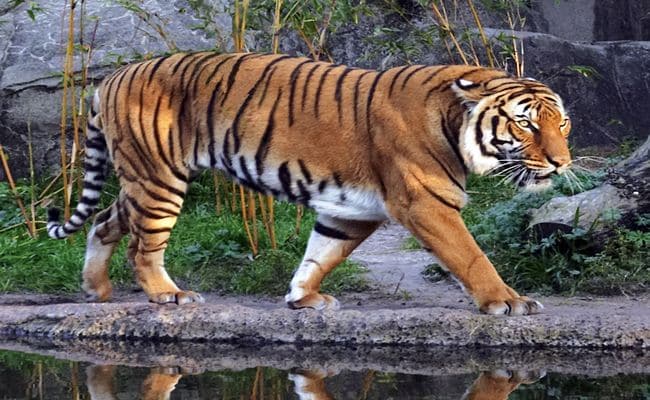 Pakhirala, West Bengal:
Schoolchildren in Sunderbans area will learn about tiger conservation and cascade the expereiences to their elders through an ambitious project that has been started from the heart of the world's largest mangrove, also home of the Royal Bengal Tiger.
Two fully-equipped edutainment boats carrying a projecter, sound system, generators, library, conservation-related movies and wildlife photographs were launched yesterday from here in the Sunderbans, which is criss-crossed by innumerable rivers and canals.
"The students, who learn and pick up much faster, will go back to their homes and impart what they have learnt to their parents and elders, thus making it easier to spread awareness among people living in the fringe areas of the forests," Bittu Sahgal of Sanctuary Asia, parterning in the conservation project, told PTI in Pakhirala.
"It is hard to change the ways of grown-up people by others, but when their children do something good and want their parents and other elders of family to follow suit, it becomes easier," Mr Sahgal said.
These include lowering of the use of pesticides for farming, not throwing waste in rivers, stopping the use of plastic etc, he said.
Spreading awareness among the children would also help curb poaching, illegal felling of trees and other such activities in the jungles, Mr Sahgal, whose organisation has associated with telecom company Aircel's 'Save the Tiger' project, said.
"We will reach out to communities and schools using these boats, which will work as multi-utility resources centres," Joydip Mr Kundu, a member of State Board for Wildlife, West Bengal, said.
"The project will start with 40 schools in the area, where coordinators will interact with students and teach them about tiger conservation and climate change," he said.
"We will hold 20 nature trails for school children from Sunderbans area this year," he said.
The Sunderbans, world's largest mangrove forest in the Ganges delta spread over India and Bangladesh, has a total area of about 9,630 sq km on the Indian side, of which the Reserve Forest occupies nearly 4,260 sq km, according to data provided by West Bengal Forest Department.
At present, out of 108 islands of the Sundarban region in India, 54 are inhabited, it said.
The two boats launched this week would traverse the villages around the peripheries of Sunderbans Tiger Reserve and conduct a series of interactive activities like screening films, distributing pamphlets, organising photo-exhibitions and various competitions to educate people about the conservation of the majestic animal, Brinda Malhotra of Aircel said.
"These on-ground engagements will highlight the importance of the rich bio-diversity, educate the community about the role in protecting it and the preventive measures to avoid human-animal conflict in the delta region," she said.