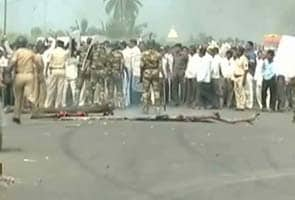 Kolhapur/Sangli:
There has been more violence in western Maharashtra, where sugarcane farmers are on protest demanding better prices for their produce. Farmers clashed with the police in Kolhapur and Sangli districts today, pelting stones at cops and even setting a police jeep afire and damaging several state-run buses, after the police attempted to break up their protests and road blocks with a lathicharge.
The farmers have been protesting for several days now seeking a share of profits that sugar factories in the region make - they say the price that they get for their sugarcane is not commensurate with the much higher rates at which factories in the region sell the sugar they make from it. The rich sugar lobby in the region is resisting raising sugarcane prices. Powerful politicians belonging to the ruling Congress and the Nationalist Congress Party (NCP) have business interests in western Maharashtra's sugar belt.
Chief Minister Prithviraj Chavan met the protesting farmers yesterday, appealed to them to call off their agitation and said the prices of sugarcane would be determined only after a discussion in the state assembly during the upcoming winter session. He failed to assuage the farmers.
Activist-turned-politician Arvind Kejriwal has alleged that the government is neglecting the farmers' interests because important politicians and their families and associates own sugar mills. He tweeted today, "How many sugar mills in Maharashtra owned by NCP men, BJP men, Cong people? Which ministers own sugar mills? That data wud explain why govt not giving better sugarcane prices and favoring sugar mill owners (sic)."
Team Kejriwal is headed to Maharashtra to take up the farmers' cause. Mr Kejriwal's close associate, Kumar Vishwas, is expected to meet the leader of the agitation, Independent MP Raju Shetty in Pune's Yerawada Jail today and Mr Kejriwal too is expected to visit this week.
The farmers' agitation had turned violent on Monday after the arrest of Mr Shetty, who heads the Swabhimani Shetkari Sanghatana, the organisation that is leading the protests. Mr Shetty had to be sent to the Pune jail after he refused bail.
Mr Shetty's detention sparked large-scale violence - protesting farmers torched two state transport buses and a police jeep in Pune district on Monday. Violent protests were also reported from other parts of western Maharashtra. One farmer was killed in Sangli, the epicenter of the agitation, when police opened fire to control a crowd of farmland activists. In Kolhapur, another farmer was killed in an accident during the agitation.
A senior Congress leader from the region, Patangrao Kadam, visited the family of the farmer who was killed in police firing, and has promised an investigation into the incident.
(With inputs from Agencies)