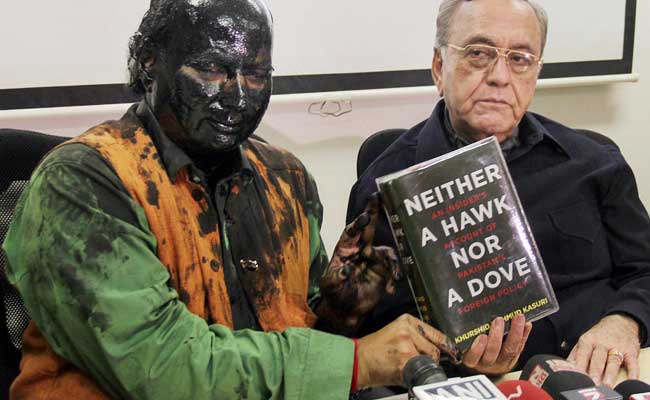 Mumbai:
After splattering black paint on columnist Sudheendra Kulkarni, the Shiv Sena has compared him to 26/11 terrorist Ajmal Kasab, who was hanged in 2012.
"If there are people like Kulkarni here there is no need for Pakistan to send the likes of Kasab. Kulkarni can do the damage of 100 Kasabs," the Sena has said in an editorial in its mouthpiece Saamna on Tuesday.
On Monday, Sena activists threw black paint on Mr Kulkarni, who had rejected the party's demand that former Pakistan foreign minister Khurshid Mahmud Kasuri's book launch be called off. The launch of Mr Kasuri's book "Neither a Hawk nor a Dove: An Insider's Account of Pakistan's Foreign Policy" went off without incident last evening with the Sena defiant but subdued by widespread public anger at the paint attack.
The Shiv Sena says it is opposed to any engagement with Pakistan as long as the country supports terror.
"Sudheendra Kulkarni proudly showed off his black face and his shamelessness. Patriots blackened the face of Pakistan's chamchas (sycophants)," the Sena said, adding that the "real threat" to the nation was from the likes of Mr Kulkarni, who were "killing patriotism."
The Sena, which is part of the state's ruling alliance with the BJP, also targeted its ally for providing security to Mr Kasuri, who was escorted by 10 cars and a busload of policemen to the book launch yesterday.
The party also poured vitriol on Chief Minister Devendra Fadnavis, who has accused the Sena of shaming Maharashtra with its attack on Mr Kulkarni. Mr Fadnavis, who had been criticized for not stepping in when the Sena forced the cancellation of a concert by Pakistani singer Ghulam Ali last week, took a firm stand on the Kasuri book launch.
"By praising Jinnah, Kulkarni dug a grave for BJP. LK Advani was very embarrassed then, Devendra Fadnavis should be careful," the Sena editorial said, referring to Mr Advani facing the anger of his party and its affiliates in 2005 for praising Pakistan founder Mohammad Ali Jinnah.