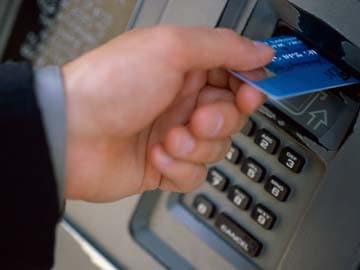 New Delhi:
Staring today, using ATMs to withdraw money or for other purposes like balance enquiry beyond five times in a month will attract a charge of Rs 20 per transaction.
As per the Reserve Bank's new guidelines that came into force today, bank customers in six metros -- Delhi, Mumbai, Chennai, Kolkata, Hyderabad and Bangalore -- are allowed to withdraw money and/or carry out non-financial transactions like mini-statements at ATMs of banks, where they hold saving/current accounts, free of charge only five times a month.
Every transaction beyond this threshold will be charged Rs 20 per use.
The number of free transactions at ATMs (Automated Teller Machines) of non-home banks has also been cut to three times a month from five times, according to the RBI's latest guidelines.
"Taking into account the high density of ATMs, bank branches and alternate modes of payment available to customers, the number of mandatory free ATM transactions for savings bank account customers at other banks' ATMs is reduced from the present 5 to 3 transactions per month (inclusive of both financial and non-financial transactions)," RBI had said in a notification issued in August this year.
Meanwhile in Chennai, PMK, a partner of NDA, demanded withdrawal of the new charge.
"To provide ATM services to bank account holders, banks charge Rs 100 to Rs 200 per year. Through that charge itself, banks can manage the expenses of ATMs," PMK chief S Ramadoss said in a statement here.
"Reserve Bank should withdraw the new regulations on ATM transactions as announced and provide all services for its customers without any additional charge," he said.
The RBI also clarified that nothing precludes a bank from offering more than three free transactions at other bank ATMs to its account holders if it so desires.
The cap in the number of free ATM transactions will not apply on small/no-frills or basic savings bank deposit account holders who will continue to enjoy five free transactions.
At places other than the six metro centres, the facility of five free transactions for savings bank account customers will remain unchanged upon using other bank ATMs.
India has a total of 1.6 lakh bank ATMs across the country as of March 2014.
Get Breaking news, live coverage, and Latest News from India and around the world on NDTV.com. Catch all the Live TV action on NDTV 24x7 and NDTV India. Like us on Facebook or follow us on Twitter and Instagram for latest news and live news updates.