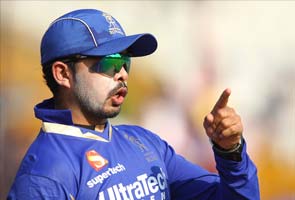 New Delhi:
The "mastermind is sitting abroad," said Delhi Police Chief Neeraj Kumar today, after announcing the arrest of three cricketers from the Rajasthan Royals team, including India Test pacer
S Sreesanth
, and 11 bookies on charges of spot-fixing in the Indian Premier League tournament now on.
To NDTV, Mr Kumar said that the police has a fair suspicion who this "mastermind", who uses a Dubai phone number, is, but would not share the name yet. He said there is no evidence as yet to show the involvement in IPL spot-fixing of one of India's most-wanted men, Dawood Ibrahim, though the police is investigating links between the Mumbai underworld and bookies. (
Watch
)
There has been speculation about Dawood's involvement as the police sources allege that at least three of the bookies are suspected have worked for the don, who India believes lives in Karachi, Pakistan.
Police sources say phone calls were made or received by these bookies on Pakistan and Dubai numbers.
The police chief explained the alleged modus operandi of bookies and players in detail and shared that today's arrests were made after about months of investigations that included intercepting telephone conversations for the last two months. "We had information that the Mumbai underworld is indulging in match fixing and spot fixing. We were keeping them under surveillance," Mr Kumar said. The tip-off that the Mumbai underworld was in touch with bookies came in the middle of March, he said. (
Watch
)
The special cell of the Delhi police, which conducted the operation, has seized 51 mobile phones, five laptops and one recording machine in the case so far.
But a lot of money changed hands, the police have alleged. They have alleged that Sreesanth was offered Rs. 40 lakhs to give away more than 14 runs in an over that he bowled in a match against the Kings XI Punjab at Mohali on May 9. In an earlier match, the police alleged, another player arrested Ajit Chandila was given as advance of Rs. 20 lakh but failed to use a code to indicate that he would bowl a fixed over. They have accused a third player, Ankeet Chavan of giving away 15 runs in the second over in a match on May 15, for Rs. 60 lakh.
The bookies and the players, who were produced in court today and have been remanded to five days in custody, will be charged with cheating and criminal conspiracy, the police said.