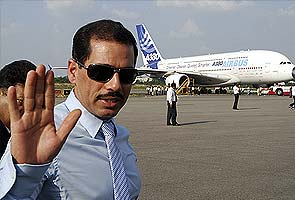 New Delhi:
Congress president Sonia Gandhi has made it clear to her party that it must refute allegations of corruption made against her son-in-law Robert Vadra by activists-turned-politicians Arvind Kejriwal and Prashant Bhushan. Mrs Gandhi's message to party leaders reportedly describes the charges as an attempt "to sensationalise" her son-in-law's involvement in real estate.
Mr Kejriwal and Mr Bhushan, who on Monday launched an as-yet-unnamed political party, said at a press conference today that Mr Vadra was given an interest-free loan of Rs 65 crore from DLF, which also sold him vast amounts of property at hefty bargains in return for favours from the Congress. They however offered no evidence of a quid pro quo.
(Watch: Robert Vadra, DLF accused of illicit links by Arvind Kejriwal)
Appearing on NDTV, Law Minister Salman Khurshid described the activists as "upstart political people" and warned we will strategise...and see if something more needs to be done to teach them a lesson or two on what the law of the land is." He described the allegations as a political conspiracy to grab attention by a newly-formed party. When asked if Mr Vadra will sue for defamation, he said the party will look at all options before it decides on its course of action.
Congress leader Rajiv Shukla said "All businessmen take loans to build their business. Maybe Robert Vadra also did that. What is wrong with that? But there is nothing to prove any wrong-doing...no proof that the Congress helped out DLF."
DLF referred to a statement it issued last year to a newspaper in which it said "The business relationship of DLF Group with Robert Vadra has been in his capacity as an individual entrepreneur and on a completely transparent and arm's length basis."
Mr Kejriwal and Mr Bhushan say that DLF sold vastly under-valued flats, many of them in its main market of Haryana, to Mr Vadra. In exchange, they said, the Congress party gave the developer large expanses of land in states like Haryana where the party is in power. Some of this land, they said, had been acquired from farmers for public projects. The activists also said that clearances and permissions were given to DLF projects at lightning speed. Haryana Chief Minister Bhupinder Singh Hooda said that all land given to developers in his state was awarded through a transparent bidding process.
Mr Kejriwal and Mr Bhushan said that while an independent investigation must be conducted, Mr Vadra's status as Sonia Gandhi's son-in-law guarantees that an impartial inquiry is impossible.
The BJP predictably seized the allegations to target the Congress and said the party should not dismiss the accusations without a detailed investigation. "The UPA chairperson's home has been turned into a place to make real estate deals," said the opposition party's spokesperson, Mukhtar Abbas Naqvi. Analysts appearing on NDTV said that the activists have offered no evidence of a quid pro quo between Mr Vadra and DLF, but the problem for the party will lie in how to counter perception. After a series of lurid financial scandals, the UPA is being seen at home and abroad as a government entangled in graft. The BJP has made corruption one of the cornerstones of its campaign ahead of elections in states like Gujarat, and will build on this for the general elections scheduled for 2014.
The activists allege that about five years ago, DLF gave Mr Vadra an interest-free loan of Rs 65 crore. Mr Vadra's five companies, which on paper were worth Rs 50 lakh, say the activists, used this loan to buy DLF properties. They say that from 2007 to 2010, Mr Vadra bought property that was worth Rs 300 crore and is valued at Rs 500 crore today. "How did he afford this?" they asked. "What was DLF's interest in giving him hugely-discounted properties?"
As an example, they cite the fact that Mr Vadra allegedly got seven apartments at massively discounted rates in a housing project called Magnolia in Gurgaon near Delhi. The developer had been given 350 acres by the Haryana government for this project. "Is that the quid pro quo for DLF giving Vadra the seed money for the purchase of these massive properties worth hundreds of crores?" they asked
The activists also alleged that Mr Vadra has registered six new companies in 2012. They asked about the source of funds for these new companies."Are illicit funds of the Congress party being funnelled into this property-buying spree?" they added.
When asked why he had not gone to court with his complaint, Mr Bhushan told NDTV, "First we believe that it is important for the people to know what is going on in this country. Well you must understand taking every matter to court requires enormous time, enormous effort and enormous time of the court too. And thereafter what will the court do? Who will investigate this?"