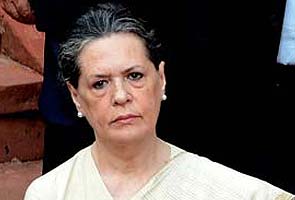 New Delhi:
Congress president Sonia Gandhi was served a US court summons in hospital, in a case accusing her of shielding party leaders allegedly involved in the anti-Sikh riots of 1984.
The rights group 'Sikhs for Justice'served the summons issuedby federal judge Brain M Cogan to Mrs Gandhi at the Sloan Kettering hospital in New York, where she had been admitted for a medical check-up.

The group, which had petitioned against the Congress president, said they had handed the summons over to the hospital and security staff. But the hospital has refused to comment.
The Congress said Sonia Gandhi, who is back in India, has not received any summons personally. "Summons have to be received personally for us to respond," said a senior leader.
The Sikh group has accused Sonia Gandhi of protecting the leaders of her party who allegedly incited and led mob attacks against Sikhs after the assassination of then prime minister Indira Gandhi - the Congress president's mother-in-law - by her Sikh bodyguards.
The court has reportedly given Mrs Gandhi time till September 30 to respond to the allegations.
"Summons issued almost 30 years after the event when the Congress president is on a medical visit is, to put it mildly, astonishing. Undoubtedly, appropriate legal action will be taken," Congress spokesperson Abhishek Manu Singhvi has said.
In the past, the same rights group has tried unsuccessfully to have Punjab Chief Minister Prakash Singh Badal and Union Minister Kamal Nath summoned to American courts.
The 66-year-old Congress president, who had a surgery in the US in 2011, spent a week there for a medical check-up. Last month she had to be taken to hospital just before voting on the Food Security Bill that she championed, after complaints of chest pain. She was discharged after five hours at AIIMS hospital.