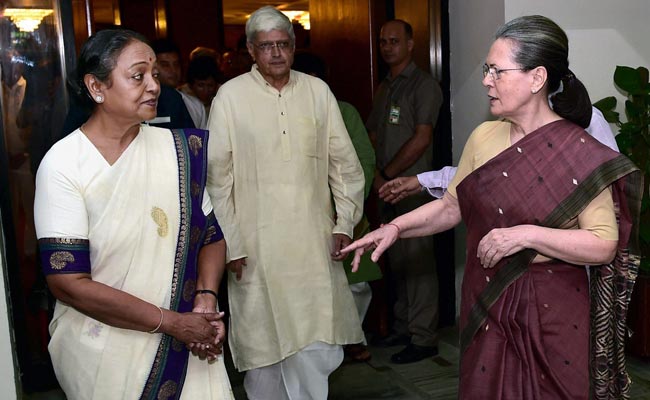 Highlights
Sonia Gandhi calls meet of opposition parties ahead of President poll
Opposition parties attend rare show of unity backing Meira Kumar
Vote today to pick between Ms Kumar and Ram Nath Kovind for President
New Delhi:
Presenting
Meira Kumar
and
Gopalkrishna Gandhi
before lawmakers, Congress chief Sonia Gandhi on Sunday said the presidential poll is a fight against "narrow-minded communal vision". The interaction between the opposition lawmakers and the candidates for president and vice president's post took place on Sunday evening - hours before today's Presidential elections.
Ms Kumar, the former Lok Sabha speaker, has been pitted against former Bihar Governor Ram Nath Kovind, who has been fielded by the ruling NDA. In an election where the numbers are stacked up against her, the opposition has repeatedly underscored the ideological importance of a contest.
"In these contests, the numbers may be against us," said the Congress chief. "But the battle must be fought and fought hard. We cannot and must not let India be hostage to those who wish to impose upon it a narrow-minded, divisive and communal vision."
Apart from Congress lawmakers - among whom was former Prime Minister Dr Manmohan Singh -- leaders from 16 other Opposition parties attended the meet. The gathering included NCP chief Sharad Pawar, Former Prime Minister H D Devegowda, BSP's Satish Mishra and Samajwadi party's Ram Gopal Yadav. Jharkhand Mukti Morcha chief Shibu Soren, too, made a rare public appearance.
Left leaders Sitaram Yechury and D Raja too were present and so was Derek O'Brien and Prof Sugata Bose of the Trinamool Congress.
Nitish Kumar's Janata Dal (United) or JD(U), which is supporting Mr Kovind - skipped the meeting. The party, also skipped the all-party meeting earlier on Sunday - a move that was seen as an effort to maintain an equal distance with the ruling BJP and the opposition.
A senior Congress leader told NDTV that the JD(U) had conveyed it to the party that they will separately meet Gopalkrishna Gandhi - whom they support - at a later date. The BJP is yet to select its candidate for the Vice Presidential election.
Though the meeting was not open to the media, leaders who attended said the Congress President pushed for a conscience vote. The election, in which all legislators of the country participate, has a secret ballot and the legislators cannot be bound by a party whip.
"The President and Vice-President are entrusted to discharge the duties of their offices in a manner that preserves, protects and defends both the Constitution and the law. Both of these are, sadly, under siege today," the Congress chief said. "We must ensure, therefore, that the best minds and the best servants of India stand at the helm."
Read more on
Presidential elections here
.