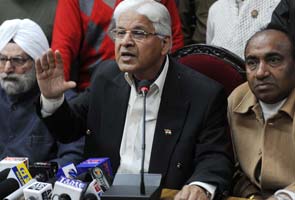 New Delhi:
Congress president Sonia Gandhi is not keen on the party's two ministers smeared by scandal, Law Minister
Ashwani Kumar
and Railway Minister Pawan Bansal, continuing, and top Congress sources say that it is now "a matter of time" before a decision is taken on their exit.
Mrs Gandhi was said to be waiting to see what happened today at a Supreme Court hearing in the coal case. The three-hour-long hearing in a packed court room this afternoon, tempered much of the Congress' joy at a big win in the Karanataka Assembly elections. (
Read: Heart of CBI's report changed: Supreme Court
)
The Supreme Court has upbraided the CBI and the government for the Law Minister and two government officials being given access to a draft of a report meant to update judges on the agency's investigation into coal block allocations.
The court will examine the legality of the Ashwani Kumar's actions in July, after summer vacations. Mr Kumar, the CBI has told court, deleted portions from the draft. As a consequence of that act, the top court today observed that the Centre should frame a law by July to "insulate the CBI from external influence and intrusion."
The evening brought more bad news. CBI sources say the Railway Minister Mr Bansal is likely to be interrogated soon by the agency as it investigates a bribery scandal. Mr Bansal's nephew Vijay Singla was arrested last week for allegedly accepting bribe in return for organising a plum posting in the Railways for a senior official, who is also in custody. (
Read
)
Parliament was today adjourned sine die two days before the scheduled end of the Budget session, because the Opposition refused to budge from its position that the Houses would function only after the two Congress ministers resigned.
The government, which had so far backed both Mr Kumar and Mr Bansal in the face of the Opposition demand that they be sacked, is now reportedly scripting an "honourable exit" for the two ministers. That, sources said, might come in the form of a small cabinet reshuffle very soon.