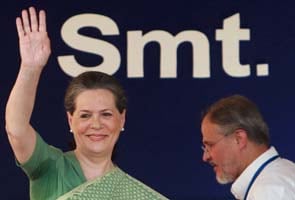 New Delhi:
Expressing concern over violence against women, Congress President Sonia Gandhi on Tuesday made a strong pitch for a proactive society to create a safe environment for them.
"We have been shocked by the violence that girls and women encounter on the street and even in their homes. Of course, it is not universal, but it is there widespread," Ms Gandhi said after laying the foundation stone for a girl hostel on the Jamia Milia Islamia University campus.
"It pains me that as a society, we have failed to counter it and create a safe environment where girls and women can live and flourish without being constantly forced to live in the fear of abuse and molestation," she said.
While the government, Parliament and institutions like the police have to discharge their role, society at large also needs to change its mind-set, the UPA chairperson said.
"We must all become all the more proactive. There can be no better places for this other than our families, schools and universities," Ms Gandhi said.
She also expressed happiness over the decision of the university to name a ground in the university after "charismatic" cricketer late Mansoor Ali Khan Pataudi.
Ms Gandhi said she was delighted to be at the varsity as she does not often get a chance to be amongst students.