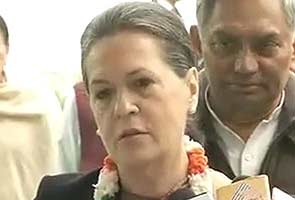 Congress president Sonia Gandhi commented for the first time today on the case of the young medical student who is fighting for her life in a Singapore hospital after a savage assault by six drunk men on a bus in Delhi.
"Our thoughts are with the young woman who is fighting for her life," Mrs Gandhi said on the case that has outraged the country and triggered near-daily protests. "Our only wish today is that she recovers and that she comes back to us, and that no time is lost in bringing the perpetrators of such a barbarous act to justice."
Mrs Gandhi was with the Prime Minister at the Congress office in Delhi to commemorate the party's 127th anniversary.
"We share the anguish and anger over this heinous crime," the Prime Minister said. "You have my assurance that our government is committed to bringing the guilty to justice as soon as possible," he said.
'Amanat' (NOT her real name) was flown on an air-ambulance from India on Wednesday night to the Mount Elizabeth Hospital in Singapore where doctors said last night that she is "extremely critical."
She has been the unwavering focus of India's attention and prayers since her savage gang-rape by a group of six drunk men who were picking up passengers illegally on a Sunday night in a bus used normally to ferry children to school.
Sources say that in the last hour before her air ambulance landed in Singapore, Amanat's blood pressure dipped alarmingly and doctors accompanying her parent used emergency measures to stabilize her. She had three surgeries and a cardiac arrest during her ten-day stay at a Delhi hospital.