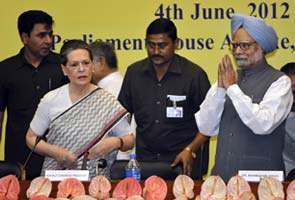 New Delhi:
The Prime Minister took on Team Anna again on Monday with a second round of strong remarks against the activists and their allegations of corruption against him and 14 of his senior ministers. "Canards and falsehoods being spread" he said, describing the people behind the allegations as "disparate, desperate elements unified only by their opposition to our government." Dr Manmohan Singh's comments were made at a session of the Congress Working Committee (CWC), the highest decision-making body of his party.
"It is alleged that in every area of its activity, our government has swindled unbelievable amounts of money. Nothing can be further from the truth," he said, a day after Team Anna held a joint rally against corruption in Delhi with yoga icon Baba Ramdev.
Dr Singh did not refer directly to the activists. Nor did his party president, Sonia Gandhi, though she made it clear that the PM enjoys her full support. "In a democracy, it is the job of the Opposition to oppose but the manner in which Opposition and some anti-Congress elements are, as part of a conspiracy, levelling baseless allegations against the Prime Minister, the UPA government, the party and some of our colleagues, is a matter of regret," she said. Team Anna has recently and aggressively targeted the Prime Minister for allegedly allowing a massive swindle in the allocation of coal fields to private companies. The Prime Minister's Office has rebutted the charges. Dr Singh said last week that he would resign if even an "iota of truth" was found in the allegations against him.
After Mrs Gandhi's defence of the PM today, Anna Hazare retaliated by saying that documents he had perused suggest that his activists' allegations are not baseless. "I have seen the papers, I have a suspicion, I have doubts. I had always thought that he was a clean Prime Minister but after reading the files... there is something wrong," Anna said after his core group met in Noida near Delhi to discuss their strategy for the next few weeks, which includes several rallies targeting the government over corruption. (
Read: Allegations about PM aren't baseless, says Anna to Sonia Gandhi
)
The working committee also authorised Mrs Gandhi to decide on the party's presidential candidate. A resolution was moved by Finance Minister Pranab Mukherjee to this effect.
The CWC is meeting at a time when the Congress and the Prime Minister are beleaguered by a slew of allegations ranging from corruption to policy paralysis.
India's growth in January-March was its weakest in nearly a decade, and sparked a new round of economic downgrades from investment banks. The Prime Minister said the economy is going through a tough time on account of circumstances over which we have little or no control. "...we have delivered high growth rates," he said.
The Finance Minister, meanwhile, emphasised that the 2008 recession and the latest Eurozone crisis had dented the Indian economy. He said, after the meeting, that comparisons with 1990 when India had 17 days of foreign currency reserves left were unfair. The economic situation now was difficult, he said, but nowhere as bad. "In an economy, and a nation, there are ups and downs - but no reason to believe that we are going back to a situation that was in 1990," said Mr Mukherjee. "Petroleum prices were discussed (at the CWC meeting), naturally nobody is happy. I explained to members of CWC that I have writer to various chief ministers," he added.
He admitted that no one in his party was happy about the recent petrol price hike but said that he had written to states to say that all stakeholders had to make sacrifices. He also said that with global prices of oil coming down to below 100 dollars, a lowering of prices could be expected.
Both Mrs Gandhi and the PM stressed the need to prep effectively for elections in key states like Gujarat and Himachal Pradesh scheduled for later this year.
Still haunted by the disastrous performance in Uttar Pradesh earlier this year, where the Congress placed a poor third, she said, "If we spend our efforts on party-building instead of groupism, our party will be strengthened."