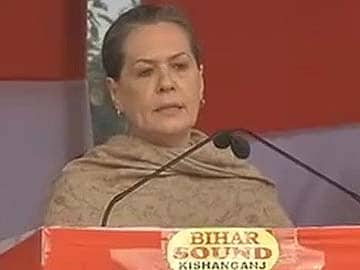 Congress president Sonia Gandhi addresses a rally today at the foundation-laying ceremony of a centre of the Aligarh Muslim University (AMU) at Kisanganj, 400 km from Patna.
Here are the highlights:
We are going through a critical periods and some hard questions need to be answered.

It is a battle of ideologies - Congress believes in secularism.
When a state develops, the country also develops - and we all must be happy.
Congress has always worked for the development of all sections of society without making any distinction.
Your struggles are the Congress party's struggles and your fight is the Congress party's fight.
There are those who want to divide the country on the basis of religion. They want the PM's office at any cost.
Congress believes in secularism and inclusive development.