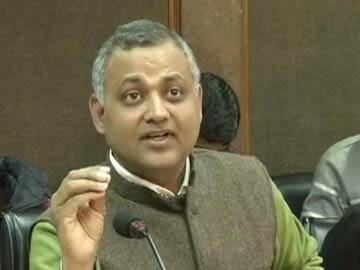 New Delhi:
Arvind Kejriwal's Aam Aadmi Party (AAP) has begun a protest in Delhi in support of Ugandan women who have alleged that they were forced into a drug and sex racket, which the party says vindicates its Law Minister Somnath Bharti's controversial raid.
AAP says its protest seeks to highlight the plight of African nationals who are caught up in a thriving sex and drugs ring in areas like Khirki Extension in south Delhi, where Mr Bharti attempted a widely criticized raid that led to Ugandan women complaining to the police about harassment and racism.
Mr Bharti claimed that three Ugandan women had approached him for help saying that they were victims of the alleged sex and drug racket. "Had the police been honest in their work, then it could have saved these three girls from being violated," he said.
The women arrived in India on January 17 and have said in a police complaint that they were lured to Delhi with the promise of jobs, but were held "hostage" by people who tried to force them into prostitution. They have reportedly described their alleged tormentors as the "drug mafia," who took away their passports and other papers. An FIR has been registered against unknown people.
The AAP government has asked the Ministry of External Affairs to provide protection to the three women, who are at a
nari niketan
or shelter.
Delhi minister Manish Sisodia said, "The women didn't trust the police or the Ugandan Commission, but approached our law minister Somnath Bharti for help... those people who were trying to project him as a villain can now see for themselves what is happening there."
The AAP protest has drawn some attention for different reasons, however, with a prominent website selling tickets at Rs 50 for the event called "AAP Dharna for Justice of Ugandan Women" at the "venue" Jantar Mantar in Connaught Place. AAP has denied any link to the ticket sale and asked that the site be removed.