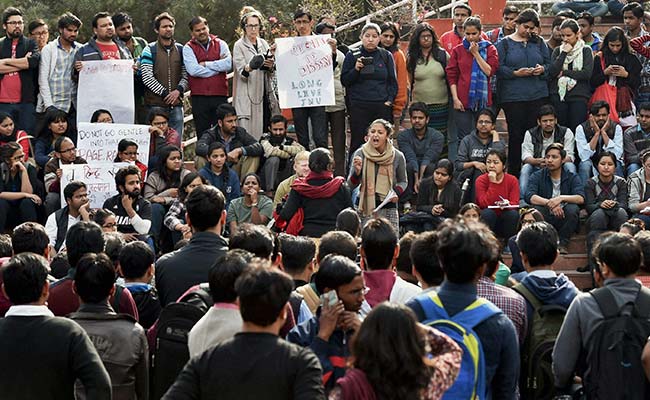 Mumbai:
ABVP's JNU Unit secretary Lalit Pandey today said some students and professors were running "anti-national activities" inside the campus.
"The reality of JNU is that some students and professors were running anti-national activities. But all students and professors are not like that. Most of the students are here for study," Mr Pandey said.
He was addressing the students of Mumbai University on its campus in Kalina in suburban Santa Cruz during an event titled 'Truth of JNU'.
The function witnessed sloganeering by ABVP activists who chanted 'Bharat Mata ki Jai' while the members of Students' Federation of India (SFI) raised slogans against the RSS and the BJP.
He said though JNU is a premier educational institution, its image is getting maligned due to some people.
"We will go to each and every corner of the country to save JNU," the ABVP leader said.
Mr Pandey said the controversial event on February 9 to mark the hanging of parliament attack convict Afzal Guru held on JNU campus was "anti-national".
"The High Court in its observation has mentioned that February 9 event at JNU was an anti-national incident. Hence, there should be no doubt that sloganeering took place there," he said.
Mr Pandey said there were two doctored videos of the JNU incident. "However, rest (of videos) were clear. Videos are not the only evidence, there are posters and pamphlets as well," he added.
Mr Pandey said ABVP will vehemently oppose those forces who talk about dividing the nation.