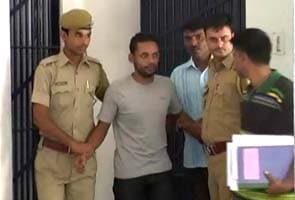 Udaipur/Vadodara:
In further embarrassment for the Gujarat Police, it has now emerged that the cops who were arrested and suspended today for letting a key witness in the Sohrabuddin Sheikh fake encounter case escape, had a few drinks with him before he gave them the slip.
The four policemen - two constables, one Sub-Inspector and a commando - have been accused of negligence and acting in collusion after Sylvester Daniel, an accomplice of Sohrabuddin, fled on Friday night while being brought back from a court appearance in Udaipur by a police party from Vadodara. The incident occurred when the cops were reportedly having a snack. He was lodged in Vadodara Jail.
Sylvester was later re-arrested late on Saturday night in in the Bhopalpura area of Udaipur. A loaded revolver was recovered from his possession.
Even as it admitted to negligence on the part of the erring cops, in its defence, the Gujarat Police said that it wasn't expecting Sylvester to flee.
"Let me tell you, they went to his house and consumed alcohol and after drinking, they went out of their mind and they didn't know what was happening", Chitrajan Singh, Director General of Police (DGP), Gujarat said.
"We didn't have any idea about him running away. Incidents are bound to take place in police work. If we have any information about the occurrence of any incident, we will go and suppress the matter there and then", he further added.
Investigations so far, though, contradict the arrested policemen's version on Sylvester's escape. In the FIR, the cops claimed that the witness fled when he was allowed to go to the toilet. But the Rajasthan Police, in their probe, found that Sylvester was first taken to his house where he had a meal with three friends after which he escaped. The Vadodara Police had, in fact, admitted to a "discrepancy in statements by escorting policemen and the Rajasthan Police's investigation" in a letter to the Central Bureau of Investigation (CBI) which had sought a report on the matter.
Sylvester Daniel allegedly belonged to the same extortionist gang as Sohrabuddin and Tulsiram Prajapati and the CBI believes he knows important facts about Soharabbudin's encounter on November 26, 2005 on the outskirts of Ahmedabad, and the subsequent death of his wife Kausar Bi a few days later.
After Sohrabuddin's death in 2005, the Gujarat Anti-Terror Squad (ATS) had said that the former was a terrorist who planned to assassinate Chief Minister Narendra Modi. In 2007, the state government admitted in court that Sohrabuddin and Kauser Bi had been wrongly killed. Some of the state's senior-most policemen are in jail, charged with murder, criminal conspiracy, and kidnapping. (
Read: Who was Sohrabuddin Sheikh?
)
Sylvester had, in a statement to the CBI last year, claimed that in 2004, Sohrabuddin had told him that Popular Builders in Vadodara had to be fired upon at the behest of Abhay Chudasama, a senior Gujarat IPS officer, now in jail for the fake encounter of Sohrabuddin.