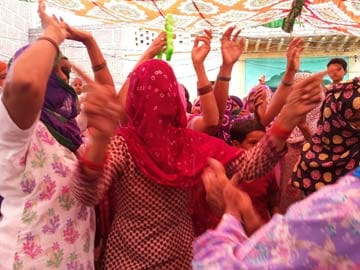 Bishan:
Bishan village in Haryana's Jhajjar district looks like any other village in the state. However, behind its silent facade are some last minute preparations to get a celebration started, for this is the native village of Lieutenant General Dalbir Singh Suhag, who became the 26th Chief of the 1.3 million-strong Indian Army on Thursday.
Lt. Gen Suhag replaced Gen Bikram Singh, who is retiring.
Though his parents are enjoying the grandest moments of their lives with him in New Delhi, we meet a bunch of excited residents of the village.
"There are 53 gazetted from lieutenants to now a General from this one village. And now he's an inspiration for so many more," said Rajbir Singh, a sub-inspector in the Haryana police, proudly.
At the modest yet refurbished home of his parents, sits a line of trophies with a photograph of Lt Gen Suhag, along with his younger brother, also a colonel in the army and their wives.
At 6.1 feet, Lt Gen Suhag seemed dwarfed by his brother in the photograph, but none can dwarf his achievements today. Lt Gen Suhag has successfully risen through the ranks to achieve the apex position that every army officer dreams of.
"He is soft spoken and friendly. Today he's the chief of the Army but his rank has never come in the way of how his bond with everyone in the village, young or old," said Havaldar Ranbir Singh, his cousin.
The sweets, crackers and the merriment, villagers say, are just a glimpse of what they have planned for when he returns. They know that when they meet him next time, there will be a big entourage accompanying him, and they might even need an appointment. But then, they say that it's not every day that a son of an army foot soldier returns home as Chief of the Indian Army.