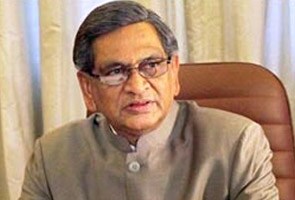 Beijing:
External Affairs Minister SM Krishna is in Beijing to participate in the 12th summit of the China-backed Shanghai Cooperation Organisation (SCO) in which India is an observer.
Besides attending the summit today, Krishna, during his three-day visit, is scheduled to meet Chinese Vice Premier Li Keqiang to review bilateral ties between the two countries.
Indian officials regard the meeting as significant as Li is tipped to take over as the premier from incumbent Wen Jiabao, who is set to retire along with President Hu Jintao and other top leaders after a decade-long stint in power.
While Li is expected to be premier, Vice President Xi Jinping is widely tipped to get selected for the president's post in the 18th Communist Party of China Congress later this year.
As bilateral relations show considerable improvement in recent years, India looks to establish a rapport with the new leaders.
The SCO summit this year is expected to focus on the situation in Afghanistan in the aftermath of the departure of the US-led NATO troops in 2014.
Despite assertions by Russia, a dominant member of the SCO to make India and Pakistan regular members, no movement on it is expected during the summit as Beijing has said that there is no time limit in this regard.
Countries seeking membership should work hard towards political, legal and technical preparations for the membership, Chinese Vice Foreign Minister Cheng Guoping told mediapersons ahead of the summit.
SCO members include Russia, China, Uzbekistan, Kazakhstan, Tajikistan and Kyrgyzstan. Pakistan, India, Iran and Mongolia have observer status while Turkmenistan and Afghanistan attend SCO gatherings as guest nations.
During the summit, Afghanistan and Turkey are likely to be made observers, while Belarus and Sri Lanka have the status of dialogue partners.
Besides meeting Li, Krishna will also meet the two Indian traders, Shyam Sunder Agrawal and Deepak Raheja who after their release from illegal custody in the commodity trade hub of Yiwu by local suppliers, are facing a legal case to clear the dues.
Indian officials say that the case is creating strains and hence, they have been persuading the Chinese government to proactively resolve it. The two, who claim to be employees of a company headed by a Yemenese national, paid about nine lakh RMB (about USD 1.42 lakh).
In between, Chinese police have released another Indian trader, Danish Qureshi, two weeks ago from similar custody and sent him home.
Krishna, who visited Beijing in February last to open the new Indian Embassy building, has already taken up the issue in his previous meetings with his Chinese counterpart.
"I don't think that there are any contentious issues between China and India and I have held consistently to the view in the last three years that we have a process which has been put in place even to iron out the differences on the boundary question," Krishna said.
"We are hopeful that we would be in a position to find a mutually acceptable resolution of these boundary questions," he added.