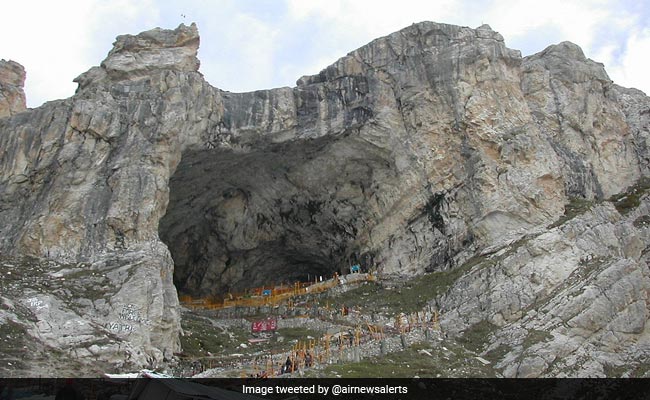 New Delhi:
A day after protests erupted over restrictions regarding chanting of mantras and
bhajans
near the Amarnath shrine in south Kashmir and its decision to declare it a "silent zone", the National Green Tribunal (NGT) clarified that the checks apply only to the area around the ice "Shivling". A bench headed by NGT chairperson Justice Swatanter Kumar said that silence has to be maintained only in front of the ice stalagmite resembling the "Shivling" and there is no restriction on chanting of mantras and singing of
bhajans
near the Amarnath shrine or any other part including the main stairs.
The green tribunal had yesterday declared the shrine as a "silent zone" and barred ringing of bells and chanting of mantras and
jayakaras
in the shrine area. It added that pilgrims would not be allowed to carry personal stuff including mobile phones beyond the last checkpoint. A detailed order is awaited.
It had earlier said that declaring the area around the Amarnath cave shrine a "silent zone" would be helpful in preventing avalanches and maintaining its pristine nature.
Even as the decision triggered protests, environment activist Gauri Maulekhi, on whose plea the directions were passed, termed it "good and progressive". "The Amarnath cave is located in a delicate ecosystem. The directions would make the Amarnath Yatra safe and convenient for the devotees. This would protect the shrine from degradation and ensure it is protected for the coming generations," Ms Maulekhi was quoted as saying by news agency Press Trust of India.
In November, the NGT had pulled up the Amarnath Shrine Board for poor infrastructural facilities provided to pilgrims and directed it not to "deprive them of proper darshan".
"You have allowed shops on path near the shrine. There are no proper facilities for toilets. Do you even know how humiliating this is for women. Why have you not provided proper infrastructural facilities for pilgrims? You are giving priority to commercial activities over pilgrims. This is unfair. The sanctity of the shrine has to be maintained," the bench had said last month.
The green court will revisit the matter on January 18.
The Amarnath cave, one of the major holy shrines, remains wrapped in snow for most of the year. It is thrown open for pilgrims for a short period in summer. This year the annual pilgrimage to the Amarnath shrine saw over 2.6 lakh pilgrims over 40 days between June 29 and August 7.