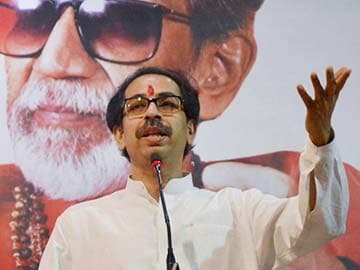 Mumbai:
Partner Shiv Sena has accused the BJP of neglecting issues core to their common electoral agenda, like the Ram temple, and of trying "to appease minorities" to win grab power, as its prime ministerial candidate
Narendra Modi
attempts to cast himself as an inclusive leader for the 2014 general elections.
The Sena made no particular effort to veil its attack as it said in an editorial in the party's newspaper
Saamna
, "Special efforts are being made to bring in burqa-clad women to public rallies. Everyone is in a hurry to appease minorities. Rather than opposing the Congress, all are getting in the race of appeasing minorities."
The party also complained, "people have forgotten the Ram temple issue in a bid to seek power."
When the BJP announced Narendra Modi as its presumptive PM in September, the Sena had backed its ally's decision, but made it known that Mr Modi was not its first choice from among the potential candidates in the BJP. The party has said it would have preferred Sushma Swaraj.
In June, days after the BJP's biggest ally the Janata Dal United broke ties with it, Shiv Sena chief Uddhav Thackeray had fired editorials in the
Saamna
criticising Mr Modi; in one he suggested that placing Mr Modi as the face of its campaign would prevent the BJP from collecting allies.
Mr Thackeray later modulated his criticism of the BJP leader, stating that he is "not an enemy" and that he "is doing good work" as the Chief Minister of Gujarat.
(After rapid-fire editorials, Uddhav Thackeray tempers Narendra Modi critique)
Mr Modi is accused by the JD(U) and political rivals like the Congress of being a "divisive leader." These parties question his secular credentials and Mr Modi has made attempts at his recent election rallies to woo minorities.
The Shiv Sena, which has partnered the BJP for many years in Maharashtra and at the national level, shares its Hindutva agenda, including the demand to build a Ram temple at the disputed Ramjanmbhoomi-Babri Masjid site in Ayodhya, Uttar Pradesh.
In recent years the BJP's emphasis has shifted to issues like development and corruption, much to the chagrin of not just the Shiv Sena, but also its ideological mentor the Rashtriya Swayamsevak Sangh or RSS and its affiliates like the Vishwa Hindu Parishad.
Today's Sena editorial also observed, "We had seen earlier that to get power, Ram temple issue was sidelined, issues like common civil code were kept aside."
The RSS has now mandated that the BJP must make a soft return to Hindutva.