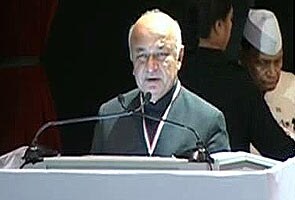 New Delhi:
By accusing the opposition BJP and its ideological mentor, the RSS, of promoting terrorism, the Home Minister has created a controversy that's resonating in Pakistan as well.
Yesterday, Home Minister Sushil Kumar Shinde said, "We have got an investigation report that be it the RSS or BJP, their training camps are promoting Hindu terrorism. We are keeping a strict vigil on all this."
The RSS said today that his comments have made the minister "a darling of terrorists." The RSS and the BJP say that the Home Minister's remarks allow Pakistan and terror groups based there to pass the buck for attacks in India.
This afternoon, Hafiz Saeed, the mastermind of the 26/11 attacks in Mumbai, who heads the Jamaat-ud-Dawa or JuD in Pakistan, is expected to hold a press conference about the Home Minister's comments.
RSS spokesperson Ram Madhav tweeted this morning, "It is Shinde who is helping our enemies by such statements. Now even LeT welcomed his statement I am told."
Yesterday, BJP spokesperson Mukhtar Abbas Naqvi said the minister's comments have given "oxygen" to Pakistan-sponsored terrorism.
Mr Shinde later clarified, "This is saffron terrorism that I have talked about. It is the same thing and nothing new. It has come in the media several times."