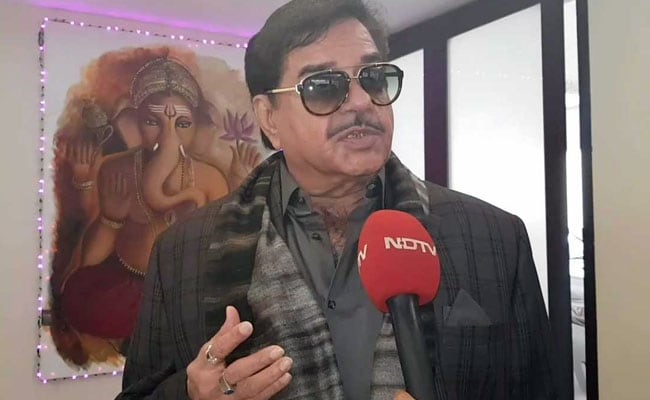 Patna:
BJP lawmaker Shatrughan Sinha said today that he would contest the Lok Sabha elections in 2019 from the Patna Sahib constituency, even if the situation is "otherwise". Mr Sinha was in Bihar's capital to attend the wedding ceremony of Tej Pratap Yadav, the elder son of RJD chief Lalu Yadav.
Mr Sinha had won the parliamentary election in 2014 from Patna Sahib. He is upset with his party after being sidelined in the Bihar assembly election in 2015. He has been making
sharp comments against the party leadership
and Prime Minister Narendra Modi.
Replying to a question, the actor-turned-politician, said, "The location (of the constituency) will be the same, even if the situation is otherwise."
Mr Sinha has attacked the BJP leadership on several occasions. In a May 11 tweet, tagged to the BJP and PM Modi's Twitter accounts, Mr Sinha praised Congress president Rahul Gandhi.
By the way, the president of the oldest party has really matured in last few years & has been raising some pertinent question which we are refusing to answer or even entertain. The Neerav/the Lalit/ the Mallyas/the Bank/the Raffael deal & so on..@narendramodi@BJP4India

- Shatrughan Sinha (@ShatruganSinha) May 12, 2018
Recently, the BJP lawmaker shared the dais at an event in Patna with former union minister Yashwant Sinha, who had quit the party after consistently attacking PM Modi and BJP president Amit Shah.
Responding to Mr Sinha's presence at the event, Bihar Deputy Chief Minister Sushil Kumar Modi had tweeted that the shatru (enemy) of the BJP should quit, instead of waiting for expulsion.
Lalu Yadav's eldest son Tej Pratap Yadav tied the knot with Aishwarya Roy, the daughter of a Rashtriya Janata Dal (RJD) lawmaker, on Saturday night. "We are family friends. Visiting each other on such an occasion is part of our sanskar (tradition)," Mr Sinha said, when asked if the visit had any hidden political message.
"It has emotional value and no politics should be read into it," Mr Sinha said, adding, "At least for now."
Mr Sinha had also visited Lalu Yadav at the Ranchi jail where the RJD chief has been lodged after being convicted in fodder scam cases. The RJD chief is out on a six-week provisional bail on medical grounds.
With inputs from PTI