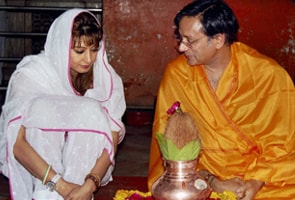 New Delhi:
Grapevine has it that former minister Shashi Tharoor is likely to tie the knot with Dubai-based businesswoman Sunanda Pushkar on August 17, which is the Malayalam New Year Day.
The media in Kerala is full of details about the impending marriage and there are reports that the Tharoor-Pushkar marriage will be solemnized in an auditorium in the premises of the Sree Padmanabha Swamy temple in Thiruvananthapuram, built by the royal family of Travancore.
It is also official now that Tharoor has divorced his Canadian wife, Christa Giles.
The parliament record of the Thiruvananthapuram MP, which till last week had Christa Tharoor's name against a column for marital status, now mentions his status as divorcee.
The former Union minister and Pushkar offered prayers at the famous Sai Baba Temple in Shirdi and at the Shani Shingnapur shrine in Maharashtra's Ahmednagar district on Sunday.
(See Pics)
After the visit to the two temples Shashi Tharoor tweeted: "Wonderful visit 2 open-air temple to Saturn at Shani Shingnapur. Simple ritual in clean, pure surroundings.1can nvr know enuf of our culture."
And also, "Made 1st visit to Shirdi. Extraordinary temple to Sai Baba, who preached shraddha & saburi (faith&peace) 100yrs ago. 'Sab ka malik ek' (1God)."
Sunanda Pushkar had hit the headlines earlier this year when she was linked with Tharoor during the high-voltage IPL controversy. Tharoor, who was Minister of State for External Affairs, later resigned from his post.