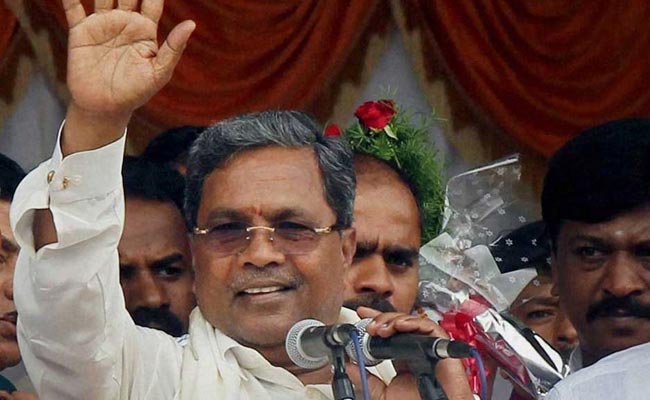 New Delhi:
Ahead of the Supreme Court hearing on sharing of Cauvery water on Friday, Karnataka Chief Minister K Siddaramaiah today said the state cannot spare any quantum of water for Tamil Nadu as it will be detrimental to drinking water requirements of its people.
Speaking to the media after a meeting on the issue between the two states convened by Union Water Resources Minister Uma Bharti, he noted the state's demand to send a central expert team to assess the ground reality has been turned down by Tamil Nadu.
"We explained the ground situation at the meeting. We told that no further releases from our reservoirs can be made. We need water for drinking, while Tamil Nadu wants it for Samba crop," Mr Siddaramaiah said.
On "defiance" of the Supreme Court order, he said, "It is not defying the order. The National Water Policy says the first priority should be given to drinking water and then to irrigation and other purpose. This is what we are demanding".
He said, "We have highest respect for judiciary and rule of law. We don't want to defy the SC order. We have complied with earlier SC order and released 12,000 cusecs of water.
Now, our situation is that we don't have water." The chief minister said the next course of action would be decided after going back to the state.
He termed as "baseless" allegations made by Tamil Nadu that Tamils staying in Karnataka were being targeted post-SC orders. "We have maintained law and order and will continue to give protection."
Seeking to drive home a point that Tamil Nadu is in a comfortable position than Karnataka, he said his state only has 27.6 TMC of water for drinking purpose.
"Tamil Nadu is in a comfortable position as the neighbouring state has 43 TMC of water in Mettur dam, 20 TMC of ground water and it would receive north east rains in October-December," he said, and noted that Karnataka gets only southwest rains and not north east monsoon rains.
In the meeting, the chief minister suggested sending a central expert team to assess the ground reality. "They should have had agreed, but they did not," he rued.
"We told that a central expert team should visit both the states to assess water level, inflow and outflow, and crop situation in both states and then submit a report. On the basis of that report, it would be easy to take a decision," he added.
The Tamil Nadu government insisted on implementing the Supreme Court September 27 order to release 6,000 cusecs of water in three days and setting up of a Cauvery Management Board, the chief minister added.
Yesterday, Karnataka had deferred release of water as directed the top court awaiting the outcome of today's meeting.