Gandhinagar:
Highlights
56 Congress workers asked to stay away from birthday celebration: sources
11 Congress leaders had voted for Ram Nath Kovind in Presidential poll
Mr Vaghela crossed over from BJP and joined Congress two decades ago
Gujarat politician Shankersinh Vaghela, announced on Friday that he has resigned from the Congress, serving new worry for the party just ahead of assembly elections in the state. Mr Vaghela was addressing a 5,000-strong crowd that continuously cheered his one-and-a-half hour speech at a public rally organised in Gandhinagar
to celebrate his 77th birthday
.
"I have resigned from the Congress and all party posts,' said Mr Vaghela, who had earlier in his address said that the party has "thrown me out 24 hours ago," which the Congress has denied. Mr Vaghela said he is "not joining any party," quashing
speculation that he could head back to his old party, the BJP
, but he seemed to keep options open, stressing that he was not retiring.
There has also been talk that Mr Vaghela, Bapu to his supporters, could launch his own party, but there was no announcement on Friday.
"He wanted to be made the party's state president. But no party can comply with this request...It's something that the party must decide and cannot be left to individuals," said Congress spokesperson Randeep Surjewala, adding, "Congress regrets a veteran leader of his stature resigning."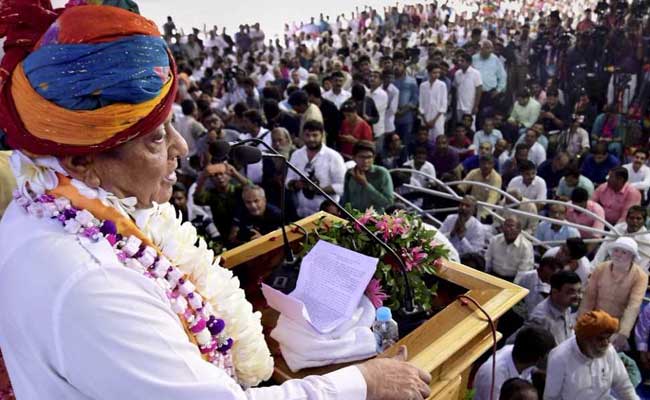 Shankersinh Vaghela
, who joined the Congress almost two decades ago, is a political heavyweight from north Gujarat and can, on his own, make a difference in at least a dozen assembly seats there. The Congress' immediate challenge is to ensure other lawmakers don't follow him out of the party.
Under strict orders from the party to stay away, only two Congress lawmakers, Mr Vaghela's son Mahendrasinh and Raghavji Patel, turned up for the birthday celebrations, apart from two from the Nationalist Congress Party.
But about a dozen Congress lawmakers had backed Mr Vaghela's failed attempt to be named the party's presumptive Chief Minister for the assembly elections and, the Congress believes, the same MLAs voted for the ruling BJP-led National Democratic Alliance candidate Ram Nath Kovind in the presidential election, instead of opposition candidate Meira Kumar, yesterday.
The cross-vote sent the Congress into a huddle. Up next are Rajya Sabha elections on August 8 for three seats in the state, one of which is held by Ahmed Patel, political adviser to Congress president Sonia Gandhi. The BJP holds the two other seats and will win those with ease. The BJP has 121 seats in the 182-member Gujarat assembly.
But the Congress could struggle to get Ahmed Patel back in the Upper House of parliament if its lawmakers cross-vote again. Rajya Sabha members are elected by lawmakers of the state they represent.