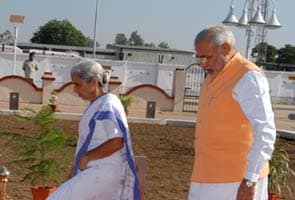 Ahmedabad:
In a setback for Gujarat minister Purshottam Solanki, the High Court in the state today rejected his petition challenging the Governor's sanction to prosecute him in connection with an alleged fisheries scam.
Mr Solanki, who is the Minister of State for Fisheries, represents the powerful Koli community in Saurashtra. He has been blamed for his alleged role in the Rs 400-crore scam.
In July this year, in a snub to the Gujarat government, Governor Kamla Beniwal had granted the sanction to prosecute the minister. The Narendra Modi cabinet had earlier refused to allow his prosecution.
In a plea filed against Mr Solanki, a petitioner, Ishaq Maradia, had alleged in the court that in 2009, the minister had granted fishing contracts without any tendering process, and that this cost the government Rs 400 crore. In March this year, the High Court asked Chief Minister Narendra Modi and his cabinet to decide on Mr Solanki's prosecution. But the cabinet refused to give its nod citing lack of evidence.
Petitioner Ishaq Maradia then went to the court and alleged that the chief minister and his cabinet did not consult the Governor before taking a call on Mr Solanki. The High Court then ruled that Governor Beniwal would take the final decision on the matter and directed the state government to forward to her all papers based on which it decided against prosecuting the minister.
Governor Beniwal gave her decision in July this year. The court today said her sanction for prosecution was "not erroneous."