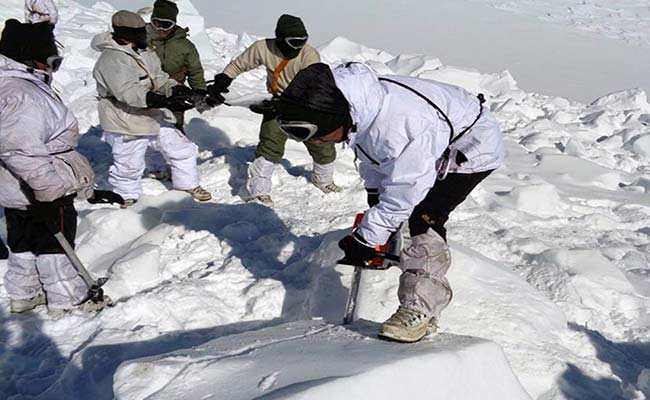 NEW DELHI:
Using ice picks and chain saws, Indian army rescue teams had tunneled their way 35 feet down through the ice around Siachen Glacier, to the spot where they expected to find the bodies of 10 soldiers.
Their post was located at an elevation of 19,500 feet, opposite Pakistani positions on what has been called "the world's highest battlefield." Five days earlier, in the predawn hours on Feb. 3, a wall of ice more than a half-mile in length thundered down onto the encampment, in a place where nighttime temperatures can drop to 50 degrees below zero Fahrenheit. Officially and unofficially, the soldiers had been given up for dead.
What the rescue teams discovered late Monday came as a shock: an infantryman named Lance Naik Hanamanthappa Koppad, described by doctors as drowsy, "severely dehydrated, hypothermic, hypoxic, hypoglycemic and in shock." But - alive.
Word of the "Siachen miracle" sent a patriotic thrill through India on Tuesday, though the nine other soldiers were dead and a government health bulletin suggested that Koppad was barely clinging to life. Airlifted to an army hospital in New Delhi, he received a 10-minute visit from Prime Minister Narendra Modi, who remarked, on exiting, that "no words are enough to describe the endurance and indomitable spirit of Lance Naik Hanamanthappa."
Wire services sent out a photograph of Koppad's wife at home in southern India, looking shaken, walking down a dirt road to a temple to pray. "We are all overwhelmed, we cannot stop crying," his father told CNN-IBN, a cable news station.
There has been no fighting on Siachen Glacier since 2003, but the thousands of troops stationed on either side of the border are in constant danger of frostbite and asphyxiation. There are also yawning crevasses that appear beneath their feet in the spring, among other hazards. Eight hundred and sixty-nine Indian soldiers have died from the extreme weather since 1984, according to an army spokesman.
In the past, disasters have prompted soul-searching about whether clinging to this remote spot is worth the loss of life; after 140 Pakistanis died in an avalanche in 2012, a commentator in the News International, a Pakistani newspaper, blamed "the chauvinistic pride of national leaders who could have solved the problem with common sense and the stroke of a pen if they had the moral courage to do so."
But there was little sign of this sentiment in India on Tuesday, as video of Koppad's rescue played repeatedly on Indian news programs.
"The Indian establishment has got one simple formulation, and that is, 'We are in the position of advantage, the Pakistani army cannot be trusted, so why should we give up our position of advantage, even if it causes the deaths of 20 people every year?'" said Brig. Gurmeet Kanwal, the former director of the Center for Land Warfare Studies, a government-funded research group.
It is unclear how Koppad survived for five days, or how he escaped without broken bones or frostbite. An army spokesman said the post was buried under "massive ice boulders, some the size of a small room," and that rescuers had to chip their way "inch by inch" through 30 feet of hard blue ice. Helicopters made hundreds of sorties to deliver rescue equipment, "flying at extremes both for men and machines," one pilot told NDTV, a cable news station.
Nitin A. Gokhale, the author of a book about warfare on the Siachen Glacier, said sufficient oxygen must have reached Koppad in spaces between the boulders and slabs of ice that had trapped him. During research for his book, "Beyond NJ 9842: The Siachen Saga," Gokhale said, he had never heard of anyone surviving in the elements for more than a day.
"He was conscious, after so many days, after five days - he has extreme willpower," Gokhale said. "He was pinned down, he had nothing to do except think about being alive."
India has controlled the heights overlooking the glacier since its commandos seized them in 1984. Infantry battalions are rotated through three-month tours of duty in the area around the glacier, and describe the assignment as arduous. The altitude affects digestion, and soldiers go months without bathing and report losing their hair. The sense of isolation can be severe. Surviving these hardships is considered a badge of honor, Gokhale said.
"It's a box that is a must-tick for any Indian soldier," he said. "They all want to serve at Siachen. It's a test of your endurance, your mental ability, your logistics, your supply chain. If a unit comes down without a single casualty, it's almost like winning a battle."
© 2016, The New York Times News Service