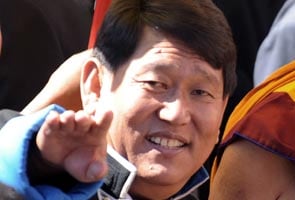 Itanagar:
It has been over 50 hours that a helicopter carrying Arunachal Chief Minister Dorjee Khandu, and four others went missing. Security forces have now focused their search operations at three locations along the Indo-Bhutan border to trace the helicopter.
Sources in the Chief Minister's office say an intense ground and aerial search is on at the Eaglenest Bird Sanctuary and Nagajan area in Arunachal's West Kameng district bordering Tawang, and Mobi village in Tashi Yangshi district of neighbouring Bhutan.
The search was narrowed down based on inputs received from satellite mapping by ISRO (Indian Space Research Organisation) and aerial mapping by two Sukhoi 30 MKI aircraft of the Indian Air Force.
The Army Spokesperson in Tezpur, Colonel Joshi, said that 35 columns of the Army, including six of the Indo-Tibetan Border Police (ITBP) and three of the SSB, were involved in search-and-rescue operations which began around 6 am this morning.
"Hard weather conditions are creating obstacles in aerial search operations, but around 4000 rescuers including personnel from Army, SSB, ITBP and state police are on the job," state government spokesman Jarbom Gamlin told PTI.
Two IAF MI 17 choppers took off from Tawang to search for the four-seater, single-engine Pawan Hans helicopter chopper that went missing 20 minutes after take-off from Tawang on Saturday morning.
Besides Khandu, others on board were pilots Captain J S Babbar, Captain T S Mamik, Khandus security officer Yeshi Choddak and Yeshi Lhamu, sister of Tawang MLA Tsewang Dhondup.
Areas on the Bhutanese side of the border were also being searched, Gamlin said.