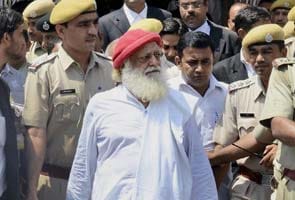 Jodhpur:
Spiritual leader Asaram Bapu, accused of sexually assaulting a school girl, will stay in a jail in Jodhpur for now.
A local court extended his custody by 14 days. The 75-year-old guru was arrested on September 2.
In court, his lawyer Ram Jethmalani argued that the 16-year-old who says the religious preacher attacked her at his ashram in Jodhpur is mentally unfit. The prosecution said Mr Jethmalani, one of the country's most eminent advocates, offered no evidence to back his claim.
"He said the girl is medically unfit and that the warden had recommended that she be sent for treatment, but we have records to prove the girl is fit," said public prosecutor Anand Purohit.
Mr Jethmalani also questioned the victim's claims that she was a minor.
The girl and her family have accused the preacher of threatening to hurt them if they reported the alleged assault to the police.
The victim's father has also alleged death threats from the spiritual guru's followers. Alleged phone recordings of the threats will be produced in court on Wednesday as grounds to deny Asaram bail.
Asaram's son, Narayan Sai, had said last month that the teen complainant was mentally unsound. The guru's aides have told the police that on August 15, he spent an hour alone with her after telling her parents that he would exorcize evil spirits that had possessed her.