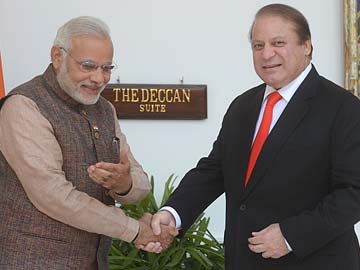 New Delhi:
Prime Minister Narendra Modi has replied to a letter written to him by Pakistan's Prime Minister Nawaz Sharif and said he is looking forward to working closely with him and his government "in an atmosphere free from confrontation and violence in order to chart a new course in our bilateral relations."
('Much Satisfied With Our Meeting': Nawaz Sharif in Letter to Narendra Modi)
In the letter, the Prime Minster addressed Mr Sharif as "Dear Mian Sahib" and thanked him for his participation in the swearing in ceremony of his government on May 26. He has also thanked him "for the sari that you sent for my mother, a gesture that she has deeply appreciated."
(Read Full Letter Here)
Briefing the media about the exchange, Foreign Secretary Sujatha Singh said today that India's policy towards its neighbours has been to work towards peaceful and cordial relations and "that is where the sari and shawl and the letter diplomacy fits in."
"Your presence and that of other leaders from our region not only added a special sheen to the event, but also a celebration of the strength of democracy in our region and a reflection of our collective hopes and shared destinies," Mr Modi wrote in the letter dated June 11. (
Nawaz Sharif's Letter to Narendra Modi: Full Text)
The prime minister also told his Pakistani counterpart that he was "encouraged by our discussions on our bilateral relations and the convergence in our views, especially on the fact that a relationship between India and Pakistan defined by peace, friendship and cooperation would unleash enormous opportunities for our youth, secure a more prosperous future for our people and accelerate progress across our region."
He also condemned the recent terror attack at the Karachi airport in Pakistan and condoled the loss of innocent life.
After attending Mr Modi's oath ceremony along with other leaders of South Asian Association for Regional Cooperation or SAARC nations, Mr Sharif had held bilateral talks with the Prime Minister the next day.
(Leaders of India and Pakistan Hold Rare Meeting)
Seeking to set to rest speculation about the outcome of their meeting, Mr Sharif wrote to the PM on June 2 saying he was "much satisfied with our meaningful exchange of thoughts on matters of bilateral and regional interest."