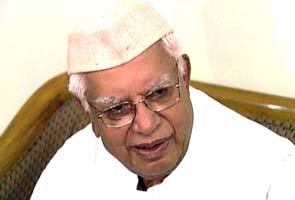 New Delhi:
The Supreme Court today dismissed politician Natayan Dutt Tiwari's objections to a paternity test.
The Congress leader has been named by Rohit Shekhar, now 31 years old, as his father. Mr Shekhar claims that Mr Tiwari was in a relationship many years ago with his mother, Ujjawala Sharma.
Mr Tiwari has rejected that theory, and claims that a paternity test will violate his right to privacy.
In December, 2010, the Delhi High Court ordered the former Governor of Andhra Pradesh to undergo a paternity test.
"Can you give us one reason why you are avoiding the test? In your own interest put an end to the issue," said the Supreme Court today. On Friday, the court will decide whether Mr Tiwari's paternity test will include a DNA sampling of his saliva or hair follicles.
Mr Tiwari's lawyers argued today that DNA tests are not always accurate.