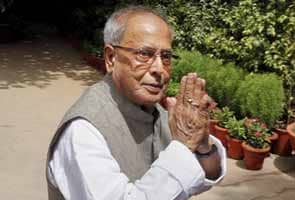 Shimla:
President Pranab Mukherjee has said he is "sad and anxious" that Parliament is frequently disrupted and has reminded elected representatives that they get their jobs after "begging people for their votes."
So, said President Mukherjee, "It would not be fair if he (a legislator) does not discharge his responsibilities. Dissent is a recognized democratic expression. The cardinal principle of effective functioning of a Parliamentary system is that majority would rule and minority would oppose, expose and if possible, depose. But this should be done within the framework of rules framed by Legislatures themselves."
Addressing the Himachal Pradesh Vidhan Sabha on the occasion of its Golden Jubilee celebrations, the President, who was a member of Parliament for over four decades, appealed to political parties to honour what he calls the three Ds of parliamentary democracy - "debate, discuss, and dissent" - but "strictly avoid" a fourth D - "disrupt."
Disruptions, he said, were done by "a small minority forcing their will on all others."
The President's remarks come soon after a washout Budget session of Parliament was adjourned two days before schedule because the Opposition refused to let the Houses function till two UPA ministers tainted by scandal resigned. The ministers did eventually quit a few days later, but not before Parliament was adjourned without some important bills like the Food Security Bill and the Land Acquisition Bill being passed.
The government and the Opposition blame each other for the low productivity this session. The BJP-led Opposition forced disruptions to protest against a slew of issues like the CBI's coal-gate report and the deadlock on a parliamentary committee's draft on the 2G telecom scam. The 15th Lok Sabha has seen very little business being transacted and could end up being one of the least productive ever. (
Read
)