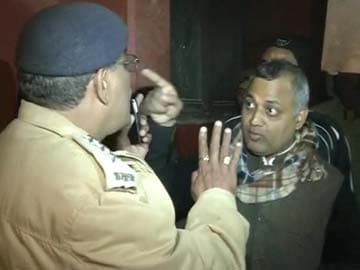 New Delhi:
Over 40 academicians and rights activists have asked Delhi Chief Minister Arvind Kejriwal to sack his Law Minister Somnath Bharti, alleging "racist and sexual violence" on the African women who were targeted in his controversial midnight raid on suspicion of a drug and sex racket.
The demand has been raised in an "Open Letter by Citizens", a day after Mr Kejriwal ended his 33-hour protest to demand action against policemen who had refused to make arrests on Mr Bharti's orders. It includes video links of the Law Minister's raid in south Delhi last week as proof of his racism.
In one of his comments on camera, the minister says "Nigerian girls and men all indulge in prostitution and drug trafficking and it is a threat to local ma, behen, beti (mothers, sisters and daughters)."
"Is it not racist to allege that an entire community of Africans are prostitutes and drug traffickers?" the letter questions.
One of the Ugandan women targeted in the raid has recorded her statement before a magistrate and identified Mr Bharti as the man who led her attackers. She has alleged that a mob entered her home, beat her and molested her.
"What basis did Mr Bharti have to assume these women were criminals - except their race/colour and the fact that they were out on a street at night?" the activists ask the Chief Minister, alleging that Mr Bharti ordered the police to raid every home in a building said to be occupied by African nationals.
"Is it not flagrantly illegal on the minister's part to endanger the women by asking an agitated crowd to 'catch' them?" ask the activists.
The letter highlights racial targeting of African immigrants in the area, but says the minister chose to ignore the activists who spoke to him about it and went with the allegations of local people.
Get the latest election news, live updates and election schedule for Lok Sabha Elections 2019 on ndtv.com/elections. Like us on Facebook or follow us on Twitter and Instagram for updates from each of the 543 parliamentary seats for the 2019 Indian general elections.