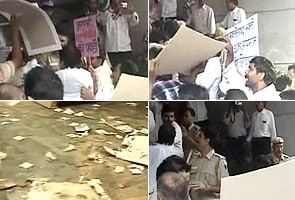 New Delhi:
Hundreds of suspected Sangh Parivar activists on Friday barged into the office of a TV news channel in Delhi and vandalised the lobby after it telecast a sting operation on an alleged plot to assassinate Vice President Hamid Ansari.
The activists barged into the building housing Headlines Today and its sister channel Aaj Tak this evening in Videocon Towers. They damaged furniture in the office lobby, police said.
Police used force to control the mob, they said. No one was injured in the incident.
The activists were angry over a string operation telecast by Headlines Today which purportedly showed some RSS functionaries planning to attack the Vice President.
According to a senior police official, around 100-150 activists first assembled outside the Videocon Towers at around 4:30 pm and started shouting slogans against the channel after which its staff informed police about it.
After around 30 minutes, the official said, more people joined the group which barged into the lobby of the
Videocon Towers and indulged in violence.
"They entered the lobby and vandalised it. They damaged a small cafeteria in the lobby. They also damaged a door frame metal detector erected at the entrance of the lobby," the official said.