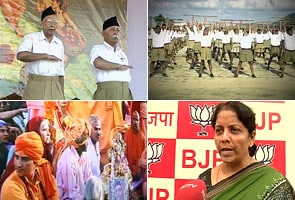 New Delhi:
The Rashtriya Swayamsevak Sangh (RSS) has consistently denied its involvement with saffron terror despite it being linked to it on various occasions. Now, as part of an internal audit it is conducting, it has sent an urgent plea for help to the Bharatiya Janata Party (BJP) asking for help to clean up its tarnished image.
It started with Sadhvi Pragya Thakur who had a RSS connection and is an accused in the Malegaon blast. At that time, the RSS and the BJP had shrugged off the charges but after the Pragya arrest, more charges started flying thick and fast. In the Ajmer blast too the accused had a Sangh connect, though distant.
Recently a senior Sangh functionary was interrogated by security agencies. To make matters worse, political opponents have started raising the spectre of Hindu terror.
So as a part of damage control, top RSS leaders met the BJP top brass including Nitin Gadkari on Tuesday and told them to counter the Hindu terror charges politically.
"We have condemned violence of any kind. But we see a pattern emerging - to connect acts of terror to the Sangh and the BJP," said Nirmala Seetharaman, BJP Spokesperson.
The Sangh is tightening up its gates to stop fringe elements from getting in as it feels its matrix is weakening and it's screening system, the
shakhas
were being bypassed.
Through careful internal audits the Sangh is identifying men who could have a terror connect. Some
pracharaks
in four states have been relieved of their duties.
The RSS feels politically ambitious elements have been using the saffron platform for an early rise. The Sangh is telling its cadres - what Dattopant Thengdi once said - that short cuts will cut you short.
The Sangh's other worry is political. It realises that strident elements like Pramod Muthalik and Pragya Thakur have given the Sangh and Hindutva a bad name.
To bring back the voters to the BJP, the Sangh is taking the first steps to tone down the colour of its politics.