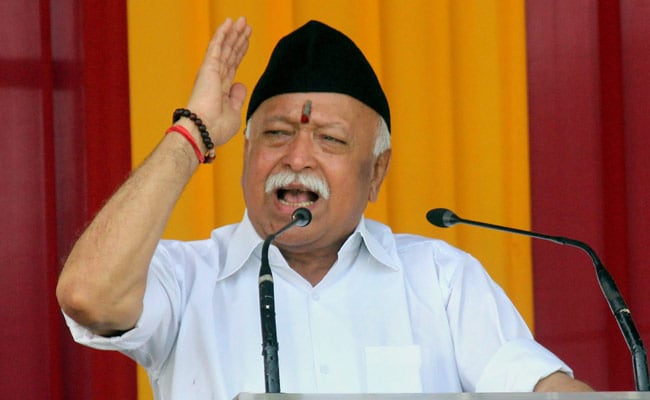 Bhopal:
The state of the economy, exodus of Rohingyas from Myanmar and violence by self-styled cow vigilantes are some of the issues likely to be discussed at the three-day meeting of the Rashtriya Swayamsevak Sangh or RSS in Bhopal beginning today.
The annual 'Diwali Baithak' of the Sangh's Akhil Bharatiya Karyakarini Mandal (ABKM) will also review the activities undertaken by the outfit in the last six months, RSS functionaries said.
"For the first time, no resolution will be passed at the meet. Henceforth, resolutions will be passed at the RSS executive meeting in March," Sangh spokesperson Manmohan Vaidya told reporters in Bhopal.
Mr Vaidya, who is the 'Akhil Bharatiya Prachar Pramukh' (all India publicity chief) of the RSS, also said BJP general secretary (organisation) Ramlal had arrived in Bhopal to attend the meeting.
The conclave will discuss matters such as the economic slowdown, exodus of Rohingya Muslims from Myanmar, violence by self-styled cow vigilantes and terrorist activities in Jammu and Kashmir, RSS leaders said.
The Akhil Bharatiya Karyakarini Mandal is one of the highest policy formulation and decision-making bodies of the RSS.
RSS Madhya Bharat Prant publicity head Deepak Sharma said nearly 300 delegates from across the country were expected to take part in the meet which will take place at Shishu Mandir School in Bhopal's Sharda Vihar area.
The Nagpur-headquartered organisation holds its executive meeting twice a year in March and October, Mr Sharma said, adding that Bhopal is hosting the meeting after a decade.
The meeting will also review the Sangh's work over the past six months, another RSS functionary said.
RSS chief Mohan Bhagwat, who is in Bhopal for the last one week, will attend the meeting.