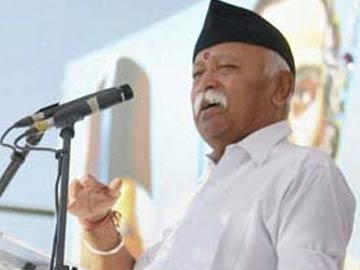 New Delhi:
The ruling BJP's ideological mentor Rashtriya Swayamsevak Sangh, or RSS, has spurred talk with a comment that appears to contradict Prime Minister
Narendra Modi
.
"Paradox- schisms between the RSS/ BJP already manifesting? PM attributes election results to one man while Mohan ji Bhagwat credits people," Congress leader Manish Tewari tweeted this morning.
RSS chief Mohan Bhagwat had said on Sunday that the BJP won the election because the common man wanted change, a day after PM Modi credited his party's victory to its new chief Amit Shah, his close aide.
"Some people say the success was due to the party. Others say it was because of some individuals. This change was not due to some individual, party or organization. The common man wanted change," Mr Bhagwat said at an event in Bhuvaneswar.
"The same individuals and the party existed earlier also. Why were not they voted to power?" he questioned, adding that if people are not happy, they will change this government too.
The RSS leader said there was a time when the ruler decided how the people should be ruled; now people decide who should rule them.
His words were interpreted by some as a reality check for the BJP and also a reminder that the Sangh's role in campaigning at the grassroots cannot be undermined.
On Saturday, at a leadership meet of the BJP, the Prime Minister had said, "Rajnath Singh was the captain of the team, under his captainship, party workers achieved the victory and
man of the match is Amitbhai Shah
."
Amit Shah was the party's key strategist and led its campaign in Uttar Pradesh, India's most politically vital state, where 71 of 80 seats went to the BJP, bolstering its bid for power at the Centre.
(How Amit Shah Delivered Uttar Pradesh For the BJP)