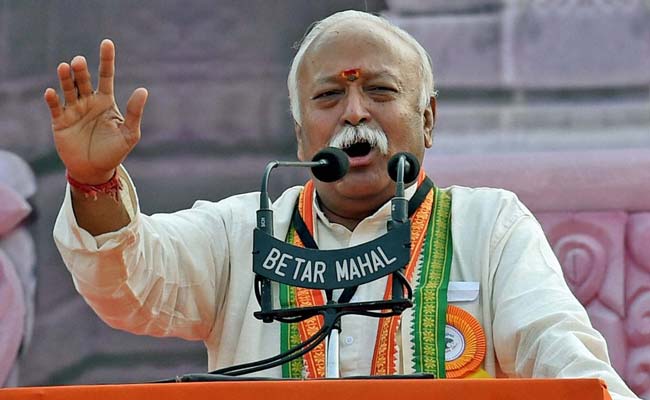 A subtle political message from Rashtriya Swayamsevak Sangh or RSS chief
Mohan Bhagwat has sparked a debate
at a time when the BJP is walking a fine line balancing demands for reservation from politically powerful upper caste communities like the Patels in Gujarat and the Jats in other states and keeping the current beneficiaries of quota like backward castes and Dalits engaged as it contests a crucial election in Bihar.
In an interview to the Organiser, a publication set up by RSS ideologues and once edited by BJP veteran LK Advani, Mr Bhagwat pitched for a review of the reservation policy saying, "Reservation for socially backward classes is the right example in this regard. If we would have implemented this policy as envisaged by the Constitution makers instead of doing politics over it, then present situation would not have arrived. Since inception it has been politicised."
He suggested that a "non-political committee" be set up to examine who needs the benefit of reservation and for how long.
Mr Bhagwat's comments came
as 22-year-old politician has Hardik Patel sought to escalate his agitation for quota in government jobs and colleges for Gujarat's Patel community.
The BJP government in Gujarat, backed so far by the
RSS
, has told the Patels that they cannot be included among castes that benefit from affirmative action. Mr Bhagwat's comments, by opening a larger debate on reservation, are now seen to signal an assurance to the Patels that their demand is not being rejected. The community has repeatedly reminded the BJP of its critical role in its five straight election victories in Gujarat since 1995.
For the BJP, however, Mr Bhagwat's comments have an immediate impact in Bihar, where rival
Lalu Yadav of the RJD hit out in a series of tweets
, promising to increase reservation if voted to power.
The BJP has in a statement said that it firmly supports reservation for all those who benefit from it currently, but also added, "If further measures are suggested for those who are economically and socially backwards, then the same is welcome."