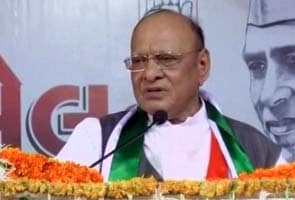 Ahmedabad:
In election year, the Congress' Shankersinh Vaghela's attempt at plainspeak has left his party somewhat embarrassed in Gujarat.
The former Union Minister, who is also in charge of Gujarat, exhorted Muslims on Sunday to vote for the Congress since it had been branded a pro-Muslim party.
Speaking at a meeting of the Congress' minorities cell in Gandhinagar, Mr Vaghela said, "We are dependent on you. It is because of you that we have been branded pro-Muslim. We have expectations from you. The voting so far has been 10, 15, 20 per cent - your low turnout won't help. We are not begging. If you want more, it won't harm you. It will help you decimate people who are against you."
In more such words that would have his party wincing, Mr Vaghela talked about a 1997 by-election in Radhanpura, when his photographs in a skull cap were circulated. He said, "I was even called names such as Shankarullah in Radhanpura. Now you should not fail us. You have to vote for us."
Mr Vaghela is an import from the BJP. He has roots in the Rashtriya Swayamsevak Sangh (RSS) and joined the Congress less than two decades ago.
The BJP has expectedly hit out. "Congress has always treated Muslims like a vote bank. Now with elections nearing they just have an eye on their votes. They are not interested in their welfare. In the days to come you will find Kasab, Sohrabudin also figuring in their speeches," said state BJP spokesman, Vijay Rupani.
It's been two days since Mr Vaghela's speech, but the state's Congress leaders are tight-lipped, refusing to comment.
Blatant use of the Muslim card backfired for the Congress in Uttar Pradesh earlier this year; open efforts by senior Congressman to consolidate the substantial Muslim vote in that state came to naught. In Gujarat, the Congress will find it difficult to forget how efforts to get the Muslim vote with an anti-Modi sentiment, which included Congress president Sonia Gandhi calling him a "
maut ka saudagar
" or trader of death, had only seemed to help Gujarat Chief Minister Narendra Modi return to power with an emphatic win in the 2007 assembly elections.