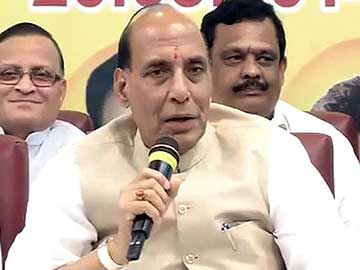 Khajuraho, Madhya Pradesh:
Union Home Minister and BJP President Rajnath Singh today said that rising inflation was a fallout of the policy paralysis that prevailed during the Congress-led UPA regime and added that the nascent Narendra Modi government will need time to rein in the price rise.
"The failures of Congress-led UPA government, the kind of policy paralysis prevailing at that time, will have its impact in the country. We are trying to neutralise it and also making efforts to check inflation," said Mr Singh.
The Home Minister was addressing reporters after inaugurating Madhya Pradesh BJP's two-day training session for newly-elected MPs and MLAs.
"The country is facing a host of problems and this government has started functioning from last 15 days only. We need some time to overcome them," he said.
Replying to a query on hike in the rail fare, Mr Singh said that it was the decision of the erstwhile UPA government.
"I want to assure people of the country that this government, under the leadership of Prime Minister Narendra Modi, will not only ensure that it emerges strong on economic front, but also in other areas," Mr Singh said.
The BJP president said that his government's performance cannot be evaluated in just 10-15 days.
"You cannot evaluate the government's performance in just 10-15 days unless we frame a policy. And a policy cannot be formulated in just 10 days or a month. Media must make
people aware on the issue," the Home Minister said.
The wholesale price inflation (WPI) accelerated in May at the quickest pace since December, led by an increase in prices of potatoes, fruits, egg, meat and fish, prompting the government to unveil anti-inflationary measures earlier this week.