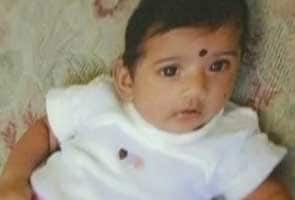 Washington:
The reward for information on a kidnapped Indian child in US has been increased to US $50,000 as investigators look for clues to find the 10-month old girl who went missing early this week.
The reward is being offered by the Telugu Association of North America, the Citizens Crime Commission of the Delaware Valley, the Montgomery County District Attorney's Office and the Upper Merion Township Police Department for information leading to the safe return of Saanvi Venna.
On Wednesday, the authorities had announced an award of US $30,000. Saanvi Venna was kidnapped by unknown people in a Philadelphia township on Monday morning, and her grandmother Satyavathi Venna, 61, was killed.
Pennsylvania State Police has issued an Amber Child Abduction Alert. According to District Attorney Risa Vetri Ferman, the body of Satyavathi Venna, the paternal grandmother of Saanvi, was discovered inside the apartment.
She was babysitting the child. The grandmother had arrived in the US from Indian in July 2012 and was scheduled to return home in January 2013.
The parents of the child Venkata Konda Siva Venna and Chenchu Latha Punuru emigrated from India in February 2007 and have previously lived in San Antonio Texas, Troy Michigan, and Cleveland Ohio.
In June this year, they moved to King of Prussia in Pennsylvania.