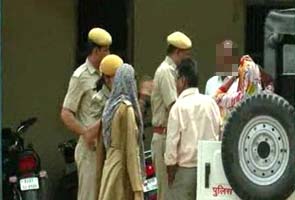 Bharatpur:
After years of suffering, two sisters in Rajasthan have finally broken their silence on 20 years of alleged sexual assault by their father. The women, accompanied by their husbands, lodged a police complaint on Tuesday against their father after he misbehaved with the three-year-old daughter of one of the sisters.
Both women have alleged that their father, a 62-year-old retired government employee from Bharatpur, had been raping them since they were in their early teens. They also accused their mother of staying silent for all these years despite being aware of her husband's crime.
Both the accused and his wife, who are parents to five girls, have been arrested.
"We had told our mother about the abuse. But what kind of a mother is she? Today we have our own daughters. Let anybody dare raise a finger on them. Both our parents should be punished," said one of the women.
The women have also said that they had to undergo abortions after the assault by their father. The eldest one, in fact, allegedly underwent an abortion 10 days before her marriage.
"He used to show the girls pornography and then rape them. He even took them to places like Jaipur and Agra. He booked them into hotels and then raped them. He told them if they resisted, he would do the same to their younger siblings. This went on for years from the time they were in class 7 and 8. The mother knew of the crime but she took their father's side," said Anshuman Bhumiya, Superintendent of Police, Bharatpur.
The police are now investigating if the accused attempted to rape his three younger daughters. So far, two of the elder siblings have recorded their statements with the police.