Nagaon (Assam):
Highlights
Retired teacher in Assam's Nagaon abruptly cut short by union minister
Teacher spoke about poor condition of roads and subways
Teacher said his several applications were ignored by local lawmaker
A retired teacher in Assam had just started listing out his complaints about bad roads in his area when he was abruptly cut off by a union minister, at a Swachh Bharat Mission event in the state's Nagaon district.
After some officers had spoken at the event, the retired teacher's turn came and he took to the stage. He lamented that he had given several applications to the local legislator to repair the roads but nothing had happened.
"Over the years, the locals in Amolapatty's BB Road subway have been suffering a lot due to the poor road conditions, but they still hope that the new government and new MLA will take steps for improving the roads," said the retired teacher from Nagaon, 125 kilometres from Guwahati.
"I have been submitting applications over the time but no initiatives have been seen," he said.
On hearing that, junior railway minister Rajen Gohain suddenly stood up from his chair and walked up to the teacher, blocking the mike in front of the audience.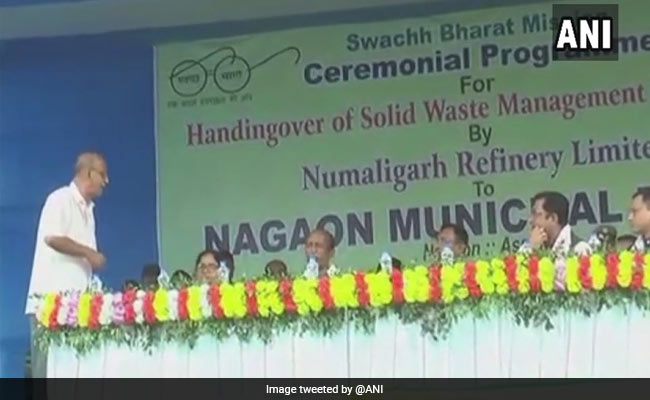 "Why don't you talk about this with the concerned officer? You seem to have come here with a motive. Utter nonsense," Mr Gohain said, news agency ANI reported.
The retired teacher tried to answer Mr Gohain's question by taking the microphone again, but the union minister did not give him the opportunity, and said, "Problems do not get solved by delivering speeches."
Mr Gohain told the retired teacher that if he had any complaint, he should have approached him personally and not speak out in front of the public.
In protest against the union minister's comments, activists of the All Assam Students Union burnt his effigies on Tuesday.
Get Breaking news, live coverage, and Latest News from India and around the world on NDTV.com. Catch all the Live TV action on NDTV 24x7 and NDTV India. Like us on Facebook or follow us on Twitter and Instagram for latest news and live news updates.