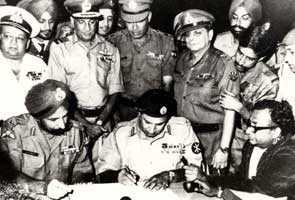 New Delhi:
Forty years ago, when Lieutenant General AAK Niazi, commander of the Pakistani forces in East Pakistan, signed surrender before Lieutenant General Jagjit Singh Aurora, India's Eastern Army Commander, it marked the end of our subcontinent's most decisive war. In fact, the definitive liberation war in modern world's military history.
Bangladesh was born but about 3,900 Indian soldiers died, 9,851 wounded and 93,000 Pakistani soldiers were taken Prisoners of War.
"Only two such surrenders have happened in the world, one in Leningrad and another one in Bangladesh. We saw token a surrender of arms by the Pakistani troops, laying down their arms and the Indian people picking them up as mark of surrender," said Air Commodore Mirza Ali.
As the new nation asserted its identity before the world, 1971 emerged as India's finest hour, sweeping away as it did with a master stroke the ravaging blunders of the 1962 India-China conflict.
Awami League's Mujibur Rahman, an India loyalist, became the new Prime Minister of Bangladesh.
And pushed to the corner, Pakistan had to sign the dotted line of the Shimla Pact that laid down the peace principles that should govern Indo-Pak relations. The accord also converted the 1949 UN Ceasefire Line into the Line of Control (LoC) between India and Pakistan.
Last, but not the least, was the then Prime Minister Indira Gandhi who emerged an icon for leading the war as she did against world opinion, to prove a point in a way India militarily and diplomatically has never been able to recreate.
Going against the Nixon-Kissinger snubs from the White House, she was able to position the 1971 War as a war for justice, ultimately turning global opinion in her favour.
Aiding her was another stellar personality - Army Chief Sam Maneckshaw - holding his own and refusing Indira as he did to start the war in March 1971. He went forward in December only after ensuring our military had readied itself and the nationalist freedom fighters Mukti Bahini within Bangladesh.
Our current Army Chief General VK Singh fought that war as a Second Lieutenant.
"It was a perfect synergy that was obtained between the political leadership and the military as well the nation. We should not forget all this. I would give great amount of credit to our then Prime Minister. I don't think people have appreciated what she achieved. She was able to get a consensus, she was able to build a world opinion, she was able to ensure that despite our own economic hardships we were able to look after thousands and thousands refugees who had come, and she allowed the military a certain amount of freedom to plan their operations in the best possible manner. It was unmatched leadership. When we look at the military, we were able to work out in great detail what is to be done and I have great pride in saying that it was the best manoeuvre war in the military history of the world. Nowhere in the world have they ever executed a manoeuver war like this. In a short time, we were able to achieve tremendous amount. You don't have wars where you get 93,000 prisoners. You don't have wars where surrenders take place like this," said General Singh.
Exactly four decades later, in a reappraisal of that military campaign in New Delhi this week, the Indian Army funded think-tank Centre for Land Warfare Studies or CLAWS, acknowledged the decisive role Mukti Bahini played in that war.
Mukti Bahini was a hastily assembled force of Bangladeshi students, lawyers and ordinary nationalist citizens - both Muslims and Hindu - who fought alongside Indian military to create Bangladesh.
Is such a war possible in this day and time? Theoretically, yes, in conflict areas where there is large-scale discontent among local people.
"If you have genuine grievances, like Kurds of Baloch, you have areas where the population has reached a stage where they have totally delinked themselves from the state they are part of. If that sort of grievances exist, an external intervention can create, and would create a state," said Alok Bansal, a military scholar.
But people who fought the 1971 War, like Air Marshall Inamdar and General VK Singh, remain sceptical.
"Look at the kind of surveillance capabilities everyone have now. Given that, something like this happening again, I think it's very difficult," said Air Marshal S G Inamdar.
"It depends on circumstances. It depends on how thing would come up. It depends on what are the factors which would guide such kind of a movement coupled with the type of resistance. This is not just a victory which was stand alone. This was a victory along with our brothers in arms from Bangladesh. It was a combined effort and if all these factors were to combine then may be, yes," Indian Army Chief, General VK Singh said.
Those factors may never come together as decisively as in 1971, making a repeat of the spectacular victory almost impossible.
Forty years after their finest military victory, the Indian armed forces are in the midst of another phase of rapid modernisation to meet new-age challenges. And while the challenges still remain about the process of modernisation and its speed, the key question that perhaps confronts India is: Do we have a political leadership as strong as we had in 1971? And is the current political leadership capable of taking bold decision?