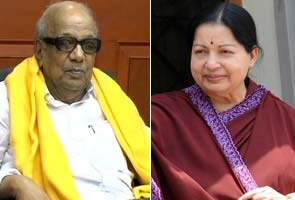 Chennai:
DMK patriarch M Karunanidhi has asked Prime Minister Manmohan Singh and Congress president Sonia Gandhi to make efforts to release three convicts on death row in the Rajiv Gandhi assassination case.
In a statement released today, Mr Karunanidhi said, "They've spent 20 years in jail. The state government is not passing a cabinet resolution."
Rajiv Gandhi was killed by a suicide bomber at an election rally near Chennai on May 21, 1991. Fourteen other people also lost their lives in the blast.
In 1999, three convicts - Santhan, Murugan and Perarivalan - were sentenced to death by the Supreme Court for being part of the group that conspired to kill the former Prime Minister. They were scheduled to be hanged on September 9. But the Madras High Court suspended their execution by eight weeks. Their mercy petitions, filed 11 years ago asking for their sentence to be commuted to life in prison, have been rejected by President Pratibha Patil.
The convicts have appealed to the High Court against this decision on the grounds that the President's office showed "an inordinate and inexplainable delay" in deciding their mercy petitions and so it violates Article 21 of the Constitution (Protection of life and personal liberty).
Murugan, Santhan and Perarivalan were sentenced to death in 1999, along with Nalini, who is married to Murugan. After Nalini gave birth to a baby girl in jail, her death sentence was commuted to life at the request of Mr Gandhi's wife, Sonia, who is the Congress president.
Last month, the Tamil Nadu Assembly adopted a unanimous resolution urging President Patil to reconsider the mercy petitions. The resolution was moved by Chief Minister Jayalalithaa. The Chief Minister was prompted to change her stand by the open support for the assassins' case stated by her arch political rival Mr Karunanidhi. "Had young leader Rajiv Gandhi been alive today, that noble man would have definitely come forward to save the lives of Santhan, Perarivalan and Murugan, responding to the voice of true Tamils," he had said before. In 2000, however, when Mr Karunanidhi was in power, the Tamil Nadu Assembly had recommended the death sentence for the same trio.
Get Breaking news, live coverage, and Latest News from India and around the world on NDTV.com. Catch all the Live TV action on NDTV 24x7 and NDTV India. Like us on Facebook or follow us on Twitter and Instagram for latest news and live news updates.