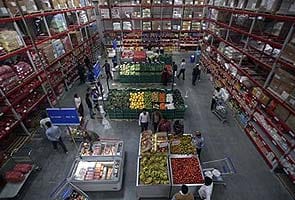 New Delhi:
The Prime Minister has introduced the boldest reforms yet in his current term - foreign super-market chains can now enter India and foreign airlines can buy stake in Indian carriers. "The Cabinet has taken many decisions today to bolster economic growth and make India a more attractive destination for foreign investment," tweeted Dr Manmohan Singh's office this evening. "I believe that these steps will help strengthen our growth process and generate employment in these difficult times."
Key ally Mamata Banerjee is reportedly furious and will decide on Tuesday whether to exit the ruling coalition - a threat issued by her party today. "We cannot support price hike of diesel and reduction in subsidized LPG cylinders. Today, a decision has been taken allowing FDI in retail sector. It is a big jolt," Ms Banerjee said on her Facebook page, adding that she was prepared to take "hard steps" if the new policies are not reversed.
(Read: Mamata Banerjee sets 72-hour deadline to withdraw FDI, diesel hike)
The government, though, made it clear that it will not be held hostage. Commerce Minister Anand Sharma pointed out that states have the right to reject the multi-brand reforms. "It is an enabling legislation," he said, adding that, "while we respect Mamata Banerjee's prerogative to implement or not implement...equally it is the prerogative of other states to have it." Late last year, the cabinet had allowed 51% Foreign Direct Investment or FDI in multi-brand retail, but suspended its plans after Ms Banerjee threatened to opt out of the Congress-led coalition at the Centre.
The new reforms, designed to revive a sluggish economy, means global firms such as Wal-Mart can set up shop with a local partner and sell directly to consumers for the first time. Like the Left and the BJP, Ms Banerjee has argued that the entry of international super-markets will put thousands of corner shops and farmers out of business.
The Cabinet today has also relaxed norms to allow international airlines to invest in domestic carriers, allowed more
FDI in broadcasting service
s and announced
disinvestment in four key profit-making public sector units (PSUs)
.
The dramatic announcements come a day after the government took the politically tough decision to hike the price of diesel by Rs 5 per litre and also capped the supply of subsidised liquefied petroleum gas (LPG) cylinders to six per household. Faced with the threat of becoming the first in the BRIC (Brazil-Russia-India-China-South Africa) group of emerging economies to be downgraded to junk, the government now seems clear that economic imperatives far outweigh political expediency.
That signal has brought cheer to Industry and the markets, which surged today in anticipation of reforms. The Sensex clocked the biggest one-day gain in 10 months. The BSE benchmark index closed at 18,464.27, up 443 points or 2.46 per cent - a 14-month high.
Foreign airlines can now own upto 49% in a domestic carrier, providing a much-needed source of funding for debt-laden airlines.
(Read)
Opening the sector to foreign airlines is likely to help passengers too with more competitive fares and world-class management and technology.
Ailing Kingfisher Airlines, which was India's No. 2 local carrier a year ago but has since grounded most of its fleet, has lobbied hard for this move in hopes that it can attract a foreign airline investor, although none has publicly expressed interest. More successful players like IndiGo and Jet have expressed reservations in the past that allowing global players in will lead to cartelisation and takeovers of Indian carriers.
Budget carrier SpiceJet, the fourth-largest of India's six main airlines, said on Thursday it was in initial talks with several Gulf carriers and was waiting for the government to ease rules before it takes a final call.
With global airlines buffeted by the European debt crisis and high fuel costs, cash-rich and fast-growing Gulf carriers such as Dubai's Emirates, Qatar Airways and Abu Dhabi's Etihad are seen as the most likely buyers of stakes in Indian carriers, analysts say.

(With inputs from Agencies)